Romeo and Juliet
William Shakespeare
Northern Broadsides
Rose, Kingston upon Thames, and touring
(2008)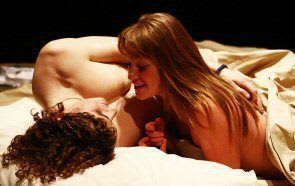 Start of term at the local Grammar brought a hundred or so bright-eyed and attentive young playgoers to the Rose Theatre in Kingston to enjoy Barrie Rutter's Northern Broadsides staging of Romeo and Juliet.
The performance, complete with two clog-dancing sessions at the masked ball — even a brief flash of nudity in Juliet's bedroom, is a prime example of the company's style: "Northern voices, doing classical work in non-velvet spaces," as Barrie Rutter so neatly puts it.
A modern-dress production, it was making its only stopover in the London area halfway through a 12 venue tour — first seen in-the-round at the New Vic Theatre in Newcastle-under-Lyme in February, an occasion described and analysed in detail for BTG by Steve Orme.
Although Lis Evans' stark staging was designed to be seen from all four sides, its chequered, two-level dais — lifting the key action a couple of feet above the stage — provided excellent sightlines in the Rose; albeit that the open staircase leading to Juliet's balcony (which had fitted snugly into a vomitory at the New Vic) looked awkward as a stand-alone feature on these wide-open spaces.
But Rutter made effective use of the more generous playing space for the musicianly parades and the dazzling fight sequences, accompanied by loud drumming to build up the tension, plus his innovative use of the auditorium doors, next to the wings, for additional entrance and exit points — including Juliet's bedding complete with her motionless body, borne off-stage on a timber stretcher.
As the star-crossed lovers, Sarah Ridgeway and Benedict Fogarty are both Manchester University graduates making their stage debuts in this production, although he also trained at Central.
While this invests the roles with their intended youthfulness, it looks a bit of a stretch for young untried talent — Judi Dench had already played four seasons at the Old Vic in smaller roles before she eventually landed the leading role of Juliet at the age of 26.
In fact Ms Ridgeway acquits herself strongly — her voice sometimes a touch shrill in the dry Rose Theatre acoustic — first as an innocent but lively modern teenager like dozens in the Kingston audience, then cheekily flirtatious. But hers is also the first Juliet I recall with the tough, emotional stamina to vent her anger and outrage against the unkindness of fate instead of meekly bowing to it.
Fogarty as Romeo has matinee idol good looks, topped by a mass of auburn curls, plus a well-developed torso. But his portrayal as the lover and quick-tempered fighter seems not to have moved on since the February opening. His vocal delivery can lack conviction and despite a good stage presence it was noticeable the audience became restless when he was alone on stage.
The best of this production comes with the original score by Broadsides associate director Conrad Nelson, played with gusto in stomping, washboard and skiffle style by the company — notably by Fine Time Fontayne whose banjo riffs and vocals match his powerful performance as the Friar.
Most memorably the gay musical tribute to the intended wedding of Juliet and Chris Hollinshead's Paris is turned from New Orleans jazz and joyous hand-bell ringing, into the tolling of sad chimes and choral unison for Juliet's funeral procession, a mood transforming effect that reveals Nelson's imaginative talent at work.
Touring to the Georgian Theatre Royal, Richmond, Yorkshire (April 29-May 3); Theatre Royal, Bury St Edmunds (May 6-10); Mart, Skipton (May 14-17); Opera House, Buxton (May 22-24); The Viaduct, Dean Clough, Halifax (May 27-31) and the Lowry, Salford (June 3- 7)
In addition to Steve Orme, Ray Brown reviewed this production at the West Yorkshire Playhouse, Leeds.
Reviewer: John Thaxter