NIMBY
Lola Stephenson
Gravel Theatre and Make and Bake
Old Red Lion Theatre
(2011)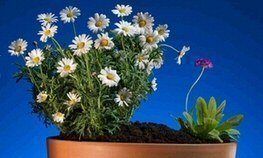 There's a strange moment when you've let someone you don't really know into your house and you realise that it might not be possible to get them to leave. Usually this is just a case of social awkwardness, but NIMBY gives a more malign edge to this home invasion in a play that is sharp, disturbing and satisfying.
NIMBY's comedy setup is nicely contrived: a man dies leaving his three full-grown children, who have never met before, a back garden. A garden, and only a garden, of a house that already belongs to a well to do, sustainable living family. Who are terribly nice and terribly not looking for new neighbours, especially neighbours who don't really know what 'personal space' means.
At its core, NIMBY is about the clash between quaint suburban England, the organic class that bakes its own bread and knows its carbon footprint, and who are very nice, very powerful, and the messy England that supports its triplets with prostitution or believes in the healing power of fruit. On stage this is the organic home owners trying to either accommodate or expel the socially unwieldy trio, first trying to understand and sympathise, until things get nasty.
It is a very smart and a very funny play, that's able to exploit its setup without pushing it too far. It's also astute enough not to outstay its welcome, clocking in at 75 minutes and constantly on the move throughout, with each scene developed, brought about and drawing into the next.
NIMBY nonetheless does have a slightly well-worn feel to it for, while the situation itself is novel, the comedic paces and general structure of well-to-do couple-suddenly-facing-socially-inexplicable-situation are recognisable. Despite this, NIMBY remains disturbing with threats and violence never too far from the action, whether it's the hippy showing his beast-side or a child torturing a cat.
But this disturbance is contained in the end. Introduced, presented and removed. This ties in with how, for all of the messy human interactions and squabbling power dynamics, in the end social position wins out with certain kinds of ugliness protected so long as it lies within the 'right' families. But this means a certain neatness that's a bit too easy. There are also some ideas and themes that aren't quite drawn out enough, particularly about what family is and means.
This said, these are only niggling issues and NIMBY is very enjoyable and playful, filled with laugh-out-loud situations and sharp dialogue. The character's aren't subtlety drawn, 'hippie commune girl', 'paranoid military guy', 'uptight beige wife', which is fine for this kind of situational comedy, particularly when these characterisations are stretched and, appropriately, the audiences' sympathies are managed so that all the characters are almost, but never quite, likeable . It helps that that this really is a very strong ensemble cast, with everyone bouncing off each other and secure in their little area of madness. Still, Daniel Curtis provided the strongest performance: always straight faced and best when silently and hilariously mucking around in the background, such as earnestly inspecting the locally-sourced pasta bake for poison.
NIMBY is an excellent beginning for new-on-the-scene playwright Lola Stephenson who definitely hits the ground running. It's face paced, organically structured, hilariously acted and written, and very sharp. While it may take the easy way out, it's definitely worth seeing.
"NIMBY" is running at the Old Red Lion Theatre until 25th June
Reviewer: Tobias Chapple