The Goblin Who Saved Christmas
Susan Mulholland, with music by Beccy Owen
Northern Stage, Newcastle
(2008)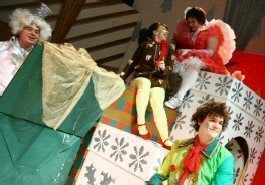 There is a sense in which the presence of a critic at a show for under-6s is irrelevant. What can an aging critic know about what appeals to children of that age? It's sixty years since I was under six and my memories of that time are long gone. So what can a critic do? Obviously: consult the experts and watch the children.
My companion at the afternoon show (the audience for which included two large infant school parties) has over thirty years' experience of teaching that age group and her judgment was that it was pitched exactly right for its audience. And certainly the way the children reacted bears that out. They were entranced, joining in when asked and getting very excited. They loved it!
And so did this aging critic. Max the Goblin (Christopher Price), who should have been an elf but something went wrong and now he is banished to behind the Christmas tree, is the only one who can save Christmas when the clock stops at just before midnight on Christmas Eve. If it isn't restarted before all the lights on the Christmas tree go out, Christmas will never come, so Margaret the Fairy (Paula Penman), who organises Christmas with military precision, sends him off on his quest.
He is joined by Robin Tinywings (Karen Traynor) and they meet an assortment of characters (played by Penman and John Carter), including two wonderful puppets, Reggie and Ronnie, the two evil squirrels, who attempt to steal the bag in which he has to collect all the Christmas wishes which will enable him to restart the clock.
I'm not giving anything away when I tell you that he succeeds - it is, after all, a fairy story and good has to win in the end - but the story of his adventures had the children involved from the start. It's played out on a set which consists of a number of wrapped Christmas parcels of varying sizes, some much taller than a man, which are on a revolve (so the configuration is constantly changing) and have numerous doors and panels to represent the various places Max and Robin visit on their travels. Downstage left is the Christmas tree on which the baubles (Traynor and Carter) appear, as do the lights which go out one by one.
The design by Andrew Stephenson and the lighting by Mary Pope add enormously to the experience. And - isn't this typical of children of that age? - although the audience were enthralled from the start, they were almost ecstatic when a mirrorball spread the glowing lights of the Christmas wishes all over the theatre and bubbles started to be pumped out all over the audience.
Over the last few years Northern Stage has garnered quite a reputation for its Christmas shows for children. This is the first one I have managed to see and I have to say that, on the basis of this one, that reputation is well deserved. Everyone left the theatre feeling happy and more than satisfied with what they'd seen - children, adults and even this aging, somewhat tending to cynicism critc.
It runs until 10th January. Don't miss it!
Reviewer: Peter Lathan