The Prince and the Penguin
Susan Mulholland, with music by Beccy Owen and Adam Kent
Northern Stage, Newcastle
(2009)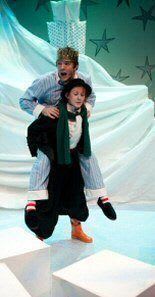 Over the last few years Northern Stage has built up quite a reputation for its Christmas shows for the under 6s. I loved last year's The Goblin Who Saved Christmas so I was very much looking forward to this production.
First impressions are excellent. Stage Two has been totally transformed. Surrounding the audience, who this year sit along the length of the theatre, are huge illustrations of popular children's stories such as The Owl and the Pussycat and The Ugly Duckling, and the seats are not the usual theatre style but low but comfortable benches plus many mats on the floor immediately in front of the stage for the youngsters to sit on, and all are colour co-ordinated with the set, which has a lovely Disney-ish cartoon quality.
The Prince - who, of course, being a prince has everything he could want - is bored. In fact, he's bored of being bored but too bored to do anything about it. So his servants (out of self-preservation because he can be very nasty to them) decide to show him how he can create stories that he hasn't heard before because they come from his own imagination.
And so begins the story set at the North Pole which includes a prince, polar bears, penguins and pirates. He doesn't realise that it isn't real even though it's pointed out to him that there are no penguins at the North Pole. And he has to work out the solutions to all the problems because otherwise he won't get back home.
There's music and clever character creation - the penguin has a frock coat, wellies and a bowler hat, the polar bear is a puppet and the pirates fight with rolled umbrellas whilst the plank they make him walk are alphabet building blocks with P, L, A, N and K on them. There's also some audience participation, a lot of knockabout comedy and much use of words which children find hilarious: "poo" for example, and the the (French) seagull brought the house down with his "Oui, oui".
The cast of four - Alex Kinsey as the Prince, Ruth Johnson (Servant and the Penguin), Carl Kennedy (Servant, Seagull and Bob the Pirate amongst many others) and Josie Cerise (Servant, Pirate Captain Richard and, again, many others) - are full of energy and pitch their performances exactly right for the audience.
Theatre for this age group is difficult because there are major differences between, say, a three year old and a six year old in terms of understanding and concentration, but there is no doubt that the production really engages the five and six year olds. A little boy near me was clearly loving every second of the 75 minute piece, laughing and joining in with huge gusto. There were some very young children in the audience who, although they didn't seem to be really following the story, they were certainly fascinated by what was going on - and to keep their attention for that length of time is some achievement.
"The Prince and the Penguin" runs until 9th January, with performances at 10.30 and 1.30 (see website for details)
Reviewer: Peter Lathan