The Wind in the Willows
Kenneth Grahame, adapted for the stage by Alan Bennett
Northern Stage, Newcastle
(2010)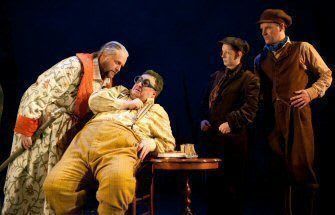 Alan Bennett, it is often said, is a national treasure. However even Homer nods and Shakespeare did write Pericles, so perhaps I am not being too heretical when I say that his version of The Wind in the Willows is very far from his best work. His choice of the tales to tell coincides almost exactly with A.A. Milne's in his 1929 Toad of Toad Hall but they feel much more loosely tied together and the characters are not so strongly drawn. What particularly is missing is the sense of real menace in the Wild Wooders. Grahame's (and Milne's) weasels, ferrets and stoats are really nasty but Bennett's have more in common with Del Boy. The triumphal scene in Toad Hall where they celebrate Toad's imprisonment with abandoned glee is replaced in Bennett's version by the announcement of the redevelopment of the property. All very 20th/21st century, yes, but not really the triumph of evil.
Grahame, of course, was originally writing for his son and these Tales of the Riverbank, when first published, were also aimed at children. Bennett, however, seems unsure as to whether he is writing for children or adults.There's a knowingness about the script which sits uneasily with the very simple, essentially moral tale. He also plays up the human characteristics of the characters and that seems to me to be a mistake, especially in a show which is aimed at a family audience. The best children's theatre and literature appeal equally to adults and neither children nor adults need to have the animal side taken away or reduced to "get the message". Yes, Grahame's story is about people - as Marigold says in the prologue (which does not appear in this version), they are as human to themselves as we are to us - but the imagination is perfectly capable of seeing them as both simultaneously. We don't need to have their "animal-ness" reduced to almost nothing.
Take Mark Benton's Toad, for example. The only concession to "toad-ness" in this production is green hair, and it's the same for Ratty: he has a tail but no whiskers or make-up. Badger, too, is 100% human (with white hair and black beard)whereas Ruth Johnson gives Mole a very mole-like movement language. Gary Kitching's Albert the Horse also has a tail but otherwise his "horse-ness" arises from his slow-moving, rather miserable character.
However the minor characters are all fully costumed with animal ears and even hedgehog spines, which, whilst it follows the tenor of Bennett's script, does tend to separate them from the almost human leads.
Neil Murray's set and prop design is, as always, impressive, sliding on and off stage with ease and speed, and the boat, caravan, motor car and train are beautifully realised - although why did the "canary yellow cart" become a red covered wagon with white spots? That's not a criticism, just a pedant indulging himself!
There can be no complaint about the performances of the nine strong cast, along with the chorus of ten. They do the best they can with what is essentially a rather weak script. The audience certainly enjoyed it and took every opportunity to join in. Indeed Mark Benton took every (unscripted) chance he had to encourage them!
Running until 8th January, 2011
Reviewer: Peter Lathan