Great Expectations
Charles Dickens, adapted by Stewart Howson
Northumberland Theatre Company
Pride of Place Festival 2006
(2006)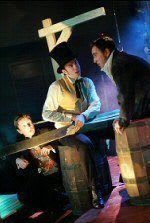 Northumberland Theatre Company bill their production as a 'fresh accessible and entertaining look at this classic novel' and the performance certainly delivers what it claims. It's quite a task to adapt what Howson acknowledges is a long and complex book with adult themes, for two hours on the stage. What inevitably happens is that we're given the bare bones of the plot, but none of the complexity or character development that makes the novel one of the greatest works of 19th century fiction. The result is an entertainment which rather contradicts Howson's affirmation that this is not a children's book, because what the production seems to offer is a vigorous and inventive children's version.
NTC are a strong ensemble, and their 'physical and non-naturalistic' house style is rehearsed to perfection here, and seamlessly directed by Gillian Hambleton on Michelle Huitson's serviceable and symbolic set. What the demands of both the style and the adaptation result in, though, is a version that's strong on caricature and gothic melodrama at the expense of any depth of character, with the sheer quantity of incident crowding out any possibility of exploration or repose.
This said, Howson's adaptation does a masterly job of what it sets out to do. Through careful selection and interleaving of the material, he presents the plotlines with energy and clarity, and the acting sometimes helps to flesh out the characters in ways that the script only sketches. David Reakes is a gentle and tender Joe Gargery, though Phil Yarrow does tend to deliver Pip's lines without much modulation, and it's a pity we see so comparatively little of his friend Herbert Pocket, as Andrew Piper's brief account of the character is charming.
NTC are a strong ensemble, and they perform with commitment a script that presents a cleverly edited version of Dickens' plot. If the production feels less than satisfactory in its account of a great work of art, perhaps it's because not all 19th century texts can be successfully filleted to suit our 21st century tastes.
Reviewer: Jill Sharp