The Bacchae
Euripides, in a new version by David Greig
National Theatre of Scotland
Lyric, Hammersmith
(2007)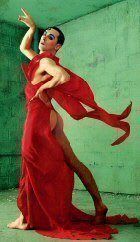 An intoxicating God capable of alluring, charming and manipulating body and soul is manifested in Alan Cumming's realisation of Dionysus in this inspired production, directed by John Tiffany.
David Greig's version of the 2500 years old Greek tragedy may compromise something of conventional translations of the play, yet it achieves lucidity and poignancy. It successfully conveys humour and brutality in a world where a new God demands and receives recognition and followers.
The flamboyant entrance of Dionysus, a gentle descent head down, arms outstretched and showing bare buttocks, reveals little of the vile events to come. His cheeky and seductive feminine face is rather endearing and disarming. Dressed in body-hugging gilded top exposing muscular arms and a matching 'kilt', he confidently and almost casually informs us that we are in the presence of a god who, out of utter consideration for our wellbeing, reveals himself in human form. His followers are women, the Bacchae, who confess to leaving their homes to submit themselves to the 'Scream' which is 'sweet work,' akin to debauchery with a divine blessing.
In Tiffany's production Dionysus' retinue is a team of ten black female Soul singers. They wear hot red dresses where the skirt parts are a mixed collection of glamour in a form of sequins to some embellished with feather-like designs reminiscent of goat-like Satyrs. They are the "moderate" Bacchae, who also represent the traditional Greek chorus. Their songs and dance exude a distinct and at times eerie religious resonance.
The opposing power to Dionysus is the Prince, Pentheus, superbly performed by Tony Curran. He is dressed in a modern dark City worker suit with a matching tie. He deals with City business until he discovers the impact of the new religion that corrupts wives and daughters. The conflict is alarmingly familiar. We are faced with a clear fusion of 21st century and 405 BC issues.
Pentheus' endeavour to challenge head-on the new God is met with defiance. Teiresias, the blind prophet (Ralf Riach) warns him. "The god you mock is beyond you - beyond our words - beyond anything you can imagine, beyond the reach even of your intellectual rhetoric".
Tiffany's direction is suffused with fun and humour throughout the first part and into the second part of the play. The audience is amused by the new god. He is funny, charming and disarming like many religious and political despots. The encounter between the two outstanding performers, Cumming and Curran, treads a fine balance between comedy and tragedy. Dionysus dupes his arch opponent Pentheus into going into the lions' den, namely, the realm of the Bacchae high on 'Scream'.
Cynical humour turns into black humour in the macabre scene as the final, unravelling tragedy, when an intoxicated Agave, movingly performed by Paola Dionisotti, mutilates her own son, Pentheus.
This production exploits the topical and theatrical potential of this brilliant play, giving the theatregoer a memorable experience.
Reviewer: Rivka Jacobson