Love Steals Us from Loneliness
Gary Owen
National Theatre Wales
Hobos, Bridgend
(2010)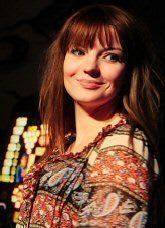 Can anybody write about teen love without sounding sappy? Skins managed it, by hiring teen writers and substituting saccharine dialogue for insouciance and sex and Hot Mess, at this year's Edinburgh Fringe, did a good job of exploring the adolescent ambivalence of love and lust without lapsing into cliché but Gary Owen never manages to strike that balance in Love Steals Us From Loneliness. The playwright has written a meandering love letter to his hometown of Bridgend that's more mawkish than moving.
Love Steals Us From Loneliness is about a love triangle between two boys and a girl. Catrin, a nice Welsh girl from Bridgend, is in a long term relationship with Lee, a boorish but attractively vulnerable jackass. Scott is Lee's sensitive best friend, and he's in love with Catrin - only she thinks he's gay. It's a love triangle that may lead to tragedy.
Structurally, Love Steals Us is bloated. The entire first half of the play (pre-tragedy) in which Catrin and Scott realise their attraction to one another, is far too long. Still, potentially cringe-worthy snippets of dialogue are mercifully undermined by an element of self-consciousness, as in Scott's line "I want you now. I want you forever. Actually, that sounds fucking shit." Unfortunately, the play soon abandons all these attempts to self-edit, and in its second half - post-tragedy - the set is transformed into what resembles one of those terrifying roadside shrines to loved ones, complete with new characters seemingly introduced so they can unleash a torrent of grief on the audience.
It's not a crime, of course, for Love Steals Us to tug at the heartstrings. It's just that its lapse into lament is jarring and unnatural, and masks a lack of character development. Katie Elin-Salt, for instance, performs the part of Catrin admirably considering that it quickly becomes apparent that her character is little more than a vehicle for the boys' emotions, allowing herself to be subsumed into their desire for her. It's such a frustrating decline for a character who opens the play as a free-spirited, brazen Welsh girl, weeing in a graveyard on a night out.
Fleshed out a little more, Catrin's part in this love triangle could have formed the basis of Love Steals Us - but instead it feels like a play that's never really sure where it's going. There is, astonishingly, no exploration of Scott and Lee's relationship. The repercussions of tragedy are meaningless to an audience that has developed no rapport with the characters, and the chest beating and outpourings of grief in the second half only make it obvious that Love Steals Us started without any direction, and ends even more confused about what it has to say. Even the set - a scribble of metal on a barren stage - is non-committal.
Gary Owen is usually a fine writer, and there are glimmers of his talent throughout the production. He can still pen a one-liner, for instance, and his satirisation of the boisterous Lee is very funny. There are also great performances from the young cast. But there is too much sentiment and too little substance. Love Steals Us is an adolescent declaration of love, a confused outpouring of emotion, a love letter penned to himself.
Reviewer: Ben Bryant