Arabian Nights
Adapted by Dominic Cooke
New Vic, Newcastle-under-Lyme
(2008)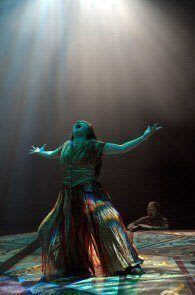 Choosing a Christmas show can be a potential minefield for theatre managers, especially if they don't want to put on a traditional offering.
While the Regent Theatre just down the road at Stoke stages Snow White and the Seven Dwarfs with a couple of big stars, Newcastle-under-Lyme's New Vic has gone down a totally different route.
This year the venue is presenting a double bill of Arabian Nights and a celebration of '60s music in Uncle Eric's Christmas Panto.
Dominic Cooke's adaptation of Arabian Nights would be a difficult enough proposition no matter where it was performed - but the theatre-in-the-round affords extra problems.
Yet they seem to be only a minor irritation for director Paul Warwick. His only previous experience of the venue was the two-hander (plus musical director) Laurel and Hardy but he makes superb use of the space which never seems overcrowded even when the cast of nine actors and 18 children are occupying it.
One of the advantages of Arabian Nights is that whoever adapts it has 1,001 tales to choose from. Cooke's version includes well-known stories such as Ali Baba and the Forty Thieves, Sinbad the Sailor and The Little Beggar. He's kept it fresh by jettisoning Aladdin and inserting a couple which aren't as well-known.
The result is a largely sparkling production which has something for all the family.
There's a danger with Arabian Nights that the darker elements of the stories - executions, treachery and betrayal - can overshadow the entertainment value. That was true of an adaptation I saw a couple of years ago. But not in Warwick's production. He injects humour throughout which stays just on the right side of silliness. There's a touch of slapstick and in one of the tales a character suffers from a prolonged, embarrassing bout of flatulence - that had the whole audience in stitches.
It's a slick show, superbly presented, cleverly designed by Lis Evans and well acted.
George Eggay gives an impressive performance as King Shahrayar whose anger melts when he finally recognises true love; Stephen Finegold excels in multiple roles ranging from the Vizier to Es-Sindibad the Sailor; and Richard Kidd plays with aplomb a variety of characters from Ali Baba to the Little Beggar.
The rest of the cast and the children throw themselves into their roles with vigour. Credit goes to former Coronation Street actress Shobna Gulati whose choreography is outstanding throughout.
Plaudits should also go to puppet specialists Blind Summit Theatre whose first project with the New Vic has an enchanting outcome.
The first half of Arabian Nights flies by but the second, with less familiar tales, tends to drag in places. However, youngsters in the audience remained enthralled and attentive throughout.
It's not completely full of eastern promise - but it's not far off.
"Arabian Nights" continues until Saturday, January 17th
Reviewer: Steve Orme