Bleak House
Charles Dickens, adapted by Theresa Heskins
New Vic Theatre, Newcastle-under-Lyme
(2010)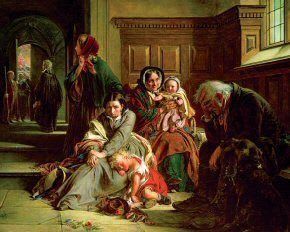 Charles Dickens' Bleak House is a behemoth of a work. It was published in 20 monthly instalments between March 1852 and September 1853, the complete book running to 998 pages. It's regarded as one of Dickens's finest novels, containing a vast number of characters, plots and sub-plots.
The BBC has produced three television adaptations, the most recent in 2005 which stretched to 15 episodes. So you can imagine what a huge undertaking it was for New Vic artistic director Theresa Heskins to turn Bleak House into a stage show lasting just under three hours.
You have to applaud her vision and adventure and also marvel at how the production comes to life in the round at the New Vic. However, the presentation doesn't quite come off: some of the scenes which give essential information about the plot go on too long while other parts of the action rush by so quickly; there's so much to digest that I'm sure some people are left confused by the end.
The evening starts promisingly enough with a pre-show promenade through backstage areas of the New Vic where audiences are able to see snapshots of the story: the office of police inspector Bucket; the scene of a murder; schoolchildren going through their daily lessons; and a man teaching himself to read and write. But it's difficult to relate the cameos to the performance.
There is, though, much to enjoy about Bleak House: the acting is superb, with the majority of the 11 actors playing several characters and slipping effortlessly from one to another; the staging is typical of the New Vic - slick and innovative, with the representation of a carriage and horses being particularly impressive; and atmospheric lighting from Daniella Beattie conjuring up images of London at its squalid worst.
Emma Pallant gives a striking portrayal of Esther Summerson who narrates a large portion of Bleak House; Kirsty Wood commands admiration for the way she portrays Ada Clare and homeless boy Jo equally well; and Stephen Finegold, who's becoming a New Vic regular, gives his customary spirited performance as manipulative lawyer Tulkinghorn.
Theresa Heskins is no stranger to Dickens and adapted Great Expectations for the New Vic a couple of years ago.
Bleak House, though, is a different proposition. As Heskins also directs, she decided she needed input from assistant director James Dacre and Sarah Punshon who's credited with script development. But it still appears that Heskins is too close to the novel and hasn't taken into account the fact that many people viewing Bleak House may know little or nothing about the original.
Great Expectations worked because Heskins took the view that less is more. But that can't be applied to Bleak House; it presented her with hard times because such a vast opus is so difficult to condense into a relatively short stage version. Perhaps the alternative, although audiences might not have been attracted to it, would have been a two-part adaptation.
Full marks to the New Vic for a bold, boundary-setting production. But I bet some members of the audience went home and accessed a literary website to tie up the loose ends.
"Bleak House" runs until July 24th
Reviewer: Steve Orme