Blue/Orange
Joe Penhall
New Vic, Newcastle-under-Lyme
(2007)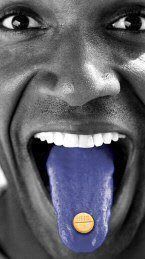 Joe Penhall's multi-layered, award-winning three-hander which was first brought to the stage seven years ago seems to have taken on greater significance in the light of continual problems faced by the NHS.
When junior doctor Bruce and consultant Robert discuss whether Christopher should leave the psychiatric ward in which he's been assessed for the past 28 days, you get the feeling that their debate is echoed in hospitals all over the country.
Bruce wants to keep Chris in to determine if he's suffering from schizophrenia while Robert is eager to return the patient to the community, even though he may not be 100% sane, because the hospital needs the bed.
This struck me even more forcibly than the playwright's intended main theme of whether the psychiatric profession misinterprets the behaviour of black patients who are perhaps struggling to cope with being social outcasts rather than exhibiting signs of mental illness.
Obviously the race question is still at the heart of Penhall's play yet director Tim Luscombe tends to make more of the internecine conflict between the two doctors who want to come out on top for their own selfish reasons.
The New Vic is one of the most intimate spaces I've ever visited and the theatre-in-the-round is the ideal space for a production like Blue/Orange which draws you in so that you feel like a member of the hospital's medical staff.
All three actors in Blue/Orange make their fist appearances at the New Vic and all give memorable performances.
Kwaku Ankomah gives a remarkable portrayal as Chris, convincing you early on that there's nothing wrong with him and putting little doubt in your mind that he really could be the son of Idi Amin, as he claims. Whenever he's on stage he grabs your attention. A twitchy leg, unexpected flare-ups and other mannerisms lead you to believe they're natural reactions to the convoluted expostulations of the two doctors.
Christopher Naylor (Bruce) changes from an ambitious go-getter recognising Chris as a case study who can help him gain promotion into a frustrated, petulant individual unable to get the better of his superior.
Julian Forsyth (Robert) initially appears to be a victim of government policy, trying to get patients in and out of hospital as quickly as possible. But as the play progresses he's unveiled as a selfish, manipulative user who will do anything to secure his professorship. He's self-centred, slightly nasty and quick to put Bruce in his place.
Luscombe's direction is such that you'll be discussing various aspects of the play long after you've left the theatre.
The New Vic's head of design Lis Evans comes up with a simple yet extremely effective blue and orange set while Hansjorg Schmidt's lighting is chillingly functional and James Earls-Davis's screeching music evokes the pain normally associated with mental illness.
There are a couple of points at which the play gets bogged down in the technicalities of medical jargon, one when the two doctors are having an intense discussion about their patient and the other when Robert gets Chris on his own for a consultation. The first half is also quite long at an hour and a half, testing the audience's ability to retain concentration leading up to the interval.
Generally, though, this is a very strong production, with the New Vic able to give an invigorating, distinct interpretation of Penhall's play without losing any of the writer's perception or incisiveness.
Reviewer: Steve Orme