Bus Stop
William Inge
New Vic, Newcastle-under-Lyme
(2011)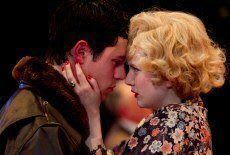 Search the British Theatre Guide for mentions of William Inge and you can count them on the fingers of one hand. Yet the "playwright of the Midwest", as he called himself, is beginning to get more exposure.
Last year Keswick's Theatre by the Lake performed Bus Stop, Inge's 1955 play which traces the relationships of a group of people who take shelter in a diner from a storm.
There was a major revival of Bus Stop at the Boston University Theatre, Massachusetts towards the end of last year and there's even an annual festival dedicated to the playwright who was inspired by his friend and newspaper colleague Tennessee Williams.
Now the New Vic's artistic associate James Dacre has seen fit to bring Inge's talents to north Staffordshire audiences.
Inge got the idea for Bus Stop when he noticed a courtship between two passengers while he was on a bus from Missouri to Kansas. He turned the experience into a play which dissects the aspirations and foibles of eight people who are thrown together through a quirk of the weather.
The changing relationship of rodeo rider Bo and nightclub singer Cherie who's fighting off his amorous advances forms the centrepiece of Bus Stop. The remaining characters, though, show they have similar flaws which can hinder their happiness.
Olivier Award-winning Abigail McKern serves up a fine performance as unorthodox diner owner Grace who's not averse to a fight on her premises and most of the time has to fight off her frustration at not having a man's company.
Philip Correia transforms Bo from a brash, immature sexist who can't understand why any woman wouldn't fall in love with him into an apologetic, caring adult.
Louise Dylan gives an endearing portrayal of Cherie, the 19-year-old who is naïve beyond comprehension and is easily swayed by anyone showing a modicum of kindness to her.
Patrick Driver comes up with a superb depiction of three-times married Dr Gerald Lyman, the heavy-drinking, melancholy, Shakespeare-reciting teacher whose affection for young waitress Elma Duckworth isn't all it seems.
There's good support from Beth Park as brainy but unsuspecting Elma; Tom Hodgkins as level-headed sheriff Will Masters; Simon Armstrong as Bo's philosophical but lonely friend Virgil Blessing; and Brendan Charleson as bus driver Carl who realises he can fill the void in Grace's life.
The play is a little on the short side which means that Inge doesn't completely develop some of the minor roles. But there's always something going on at the various tables in the diner which keeps your attention.
Dacre, who's been directing professionally for only five years, does a commendable job and you almost feel you're in your own corner eavesdropping on the conversations.
Libby Watson's design, with neon signs and a working griddle, is amazingly authentic and works perfectly in the theatre-in-the-round.
A realistic fight between Bo and sheriff Will, put together by Terry King, adds to the enjoyment.
Bus Stop doesn't quite achieve the necessary heights of emotion nor the depths of characterisation to be labelled a classic. Despite that, the New Vic's slick revival takes you on a pleasurable journey. It was a pity there weren't more passengers queuing up to get into the auditorium on the night I attended.
"Bus Stop" runs until February 19th
Reviewer: Steve Orme