Copenhagen
Michael Frayn
New Vic, Newcastle-under-Lyme
(2010)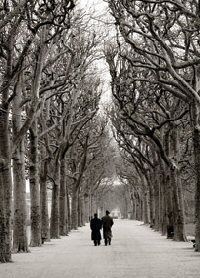 Michael Frayn is enjoying a fair bit of exposure in the Midlands at the moment: his incredibly funny show Noises Off is coming to the end of its run at Birmingham REP while Staffordshire's New Vic is staging a mini-rep season of his first major success Alphabetical Order combined with his later drama Copenhagen.
Opening at the National in 1998, Copenhagen - considered by many people to be his finest work - centres on a meeting in 1941 between the Danish father of modern physics Niels Bohr and his protégé, the German Werner Heisenberg, when Denmark was under German occupation.
Heisenberg had rejected the opportunity to leave Germany, choosing instead to work for Hitler. Germany was the world leader in physics and was thought to be building an atomic bomb. But was Heisenberg the man who could actually build that bomb? And why did he go to Copenhagen two years after the war started? Frayn has three characters meeting again when they are dead to discuss motivation and morals.
Copenhagen is a tour de force for the three actors involved as it requires more than a basic knowledge of physics as well as a huge capacity for learning the great swathes of text which go into Frayn's two-and-a-half -hour opus.
There's the added curiosity in the New Vic's version that it's directed by James Dacre whose production of The Mountaintop won an Olivier Award for best new play. Copenhagen is his directorial debut for the New Vic; he could hardly have chosen a more difficult work for his initial offering at the theatre-in-the-round.
Yet Dacre, who's been a director for only about five years, has come up with a mature production. He gets stirring performances out of his actors; they're continuously comfortable with their roles.
John O'Mahony (Bohr) and Jamie Hinde (Heisenberg) both make their first appearance at the New Vic and are so impressive that it won't be too long before they return.
O'Mahony is statesmanlike as Bohr, commanding respect as a Nobel Prize winner should do. His humanity is apparent when he recalls only the good times from the past, claiming that he and Heisenberg did most of their best work together when in fact they operated better in isolation. It's a wonderful performance from O'Mahony.
Hinde gives an in-depth portrayal of Heisenberg, evoking sympathy for sticking to his principles and making us doubt whether he was actually developing an atomic bomb or holding back Germany's nuclear programme.
Deborah Maclaren has less of a role as Margarethe Bohr but proves to be the voice of reason, doubting Heisenberg's motives for returning to Copenhagen, realising what a danger to mankind he could be and becoming slightly abrupt when the men have a distorted view of the past.
It's played out on Patrick Connellan's grim-looking set, illustrating what the world might look like after a nuclear attack, while all three characters add to the air of despair in their grey suits.
Dacre's production has Bohr and Heisenberg going through a range of emotions as they justify their actions during the war. The only criticism I can make is that occasionally Dacre might inject more tension into the piece as the two men's relationship is stretched to breaking point.
Copenhagen isn't the sort of play you can watch without maximum concentration. Parts of it are bleak and depressing. It won't be to everyone's taste. But it's a superb example of how people react to challenging circumstances and whether they make the correct choice morally. James Dacre can chalk up a huge tick for his first production at the new Vic.
"Copenhagen" runs until June 12th
Reviewer: Steve Orme