The Daughter-in-Law
D H Lawrence
New Vic, Newcastle-under-Lyme
(2009)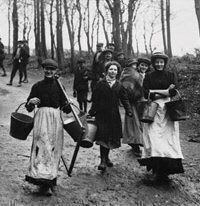 Although David Herbert Lawrence is known primarily as a novelist, his early writing career included a number of plays which feature a theme prevalent in much of his work: how families cope with unexpected crises.
The Daughter-in-Law, Lawrence's second play written while the Nottinghamshire writer was a teacher in Croydon, is set in a Midlands mining community in 1911. It analyses the problems that occur because of class differences and a dependence on the opposite sex.
It's the sort of play the New Vic usually does very well. However, on this occasion I was left slightly disappointed by an occasional lack of sparkle.
The Daughter-in-Law is directed by former Salisbury Playhouse artistic director Joanna Read. She was at the helm of Dangerous Corner at the New Vic last year. I noted then that there were times when I struggled to hear what some of the cast were saying as they made their debuts in this theatre-in-the-round; the same could be said about Lawrence's opus.
But not all the blame should fall on the cast: some of Lawrence's phraseology sounds parochial as well as archaic. It takes a while to get to grips with the language in the early scenes, some of which is almost indecipherable.
The unexpected crisis that Lawrence explores in The Daughter-in-Law concerns the revelation that miner Luther Gascoigne, who's been married for only six weeks, fathered a child four months ago with a different young woman.
His relationship with his wife Minnie who married beneath her class is stretched to breaking point. Further complications arise when the miners go on strike and financial problems begin to bite.
Nia Gwynne, who was impressive in Dangerous Corner, gives a towering performance as Minnie. She's described as "high and mighty" because of her upbringing but beneath the layers of complexity she shows that all she wants is the love of her husband no matter what he's put her through.
Michael Shelford as Luther gives a stirring portrayal of mollycoddled Luther who "depends on his mother the same when he's 30 as when he was three". Lawrence's witty observation of a typical man from the 1900s - looked after by his wife in the same way as his mother without any consideration for either woman's feelings - is realistically brought to life by Shelford who earns sympathy for the character's shortcomings.
There's also a fine yet all too brief cameo from Christine Cox as Mrs Purdey, the larger-than-life busybody who wants the best for her daughter despite the shame of being made pregnant by a married man.
Anita Carey is Mrs Gascoigne, the mother who tries to keep the family together through all their troubles. I felt she doesn't show the concern you would expect from a woman who must have been desperately anxious about her boys' future; that, though, is more of a flaw in Lawrence's writing than her interpretation.
Adam Sopp seems to take time to warm up as Luther's brother Joe but gives a creditable performance once he's settled into the role.
Designer Nancy Surman does a fine job with the set, a pit's winding wheel suspended from the ceiling and coal strewn around the stage never letting you forget the importance of mining to this community.
But there are times when the pace of the play is too languid, scene changes too long and the direction too fussy.
It was a good idea to revive The Daughter-in-Law which still has a lot to say about how families treat one another. But it doesn't quite match up to the New Vic's normally exceptionally high standards.
"The Daughter-in-Law" continues until Saturday, October 10th
Reviewer: Steve Orme