The Glass Menagerie
Tennessee Williams
New Vic Theatre and Oldham Coliseum Theatre co-production
New Vic, Newcastle-under-Lyme
(2011)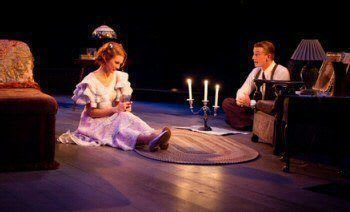 For the second time the New Vic and Oldham Coliseum have collaborated on a production directed by Sarah Punshon.
Last year they got together to stage C P Taylor's wartime musical comedy And A Nightingale Sang, a memory play in which the narrator recounts the story of a family during difficult times. It features a girl with a physical disability which makes her feel cut off from other people of a similar age.
Now the two theatres have brought in Ms Punshon to direct The Glass Menagerie. It's similar in that it's a memory play with a narrator who points out how a family struggles financially as a crippled daughter in her early twenties comes to terms with her insecurity about the outside world.
The Glass Menagerie is seen as a mirror of Tennessee Williams' life, although he puts the Wingfields in an even more perilous situation than his own family.
Mr Wingfield disappeared while the children were young, leaving mother and two children to their own devices in the depths of the Depression.
Ms Punshon reckons this is a "gem" of a play and it's difficult to disagree with her. The relationships between Amanda Wingfield, her children Tom and Laura and visitor Jim are so intimately detailed that any breakdowns between the characters are particularly shocking.
Louise Bangay's gives a remarkable performance as Amanda, the deserted wife who loves her children so much she smothers them and almost drives them away.
When she prepares for the arrival of a possible suitor for her daughter, she emerges in a flowing white gown looking like an ageing Greek goddess, a delightful, over-the-top moment in which she tries to re-live the time when she had countless men calling on her.
But she's almost eclipsed by Katie Moore. She graduated only last year and gives a stunning portrayal of Laura. She's constantly pained by her inferiority complex and her lack of social skills as well as her disability. She's as fragile as the glass ornaments she thinks so much of - which means that when she's let down the effect is all the more touching.
James Joyce puts over all the frustration Tom experiences both in his relationship with his mother and at the lack of opportunities which have forced him to take a dead-end job.
In the second act potential suitor Jim arrives and comes over as a nice guy who could be the one to bring an end to Laura's troubles. The two had been at high school together, Laura having a crush on Jim yet never having the courage to do anything about it.
Harry Livingstone as Jim seems a perfectly decent, well-intentioned man who gives Laura encouragement and a hint of passion. But when he admits he's already got a fiancée, the revelation is startling; the effect on Laura leads to a heightened sense of sympathy for her.
Ms Punshon, who's directed episodes of the television series Shameless, shouldn't feel any shame about this production in which she brings out all the sensitivity and beauty of Tennessee Williams' work. It's a smash success.
"The Glass Menagerie" runs until 15th October
David Chadderton reviewed this production at the Coliseum, Oldham.
Reviewer: Steve Orme