Life of Riley
Alan Ayckbourn
Stephen Joseph Theatre, Scarborough, production
New Vic, Newcastle-under-Lyme
(2010)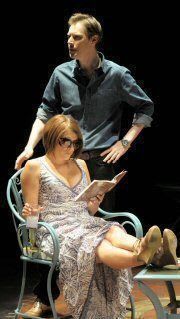 When Alan Ayckbourn first started writing plays, he was told he would have to include only a small number of actors and he had a very low budget. Those restrictions didn't seem to faze him: before long he'd settled into a formula which he usually sticks to more than four decades later.
The Life of Riley, the author's 74th play, is a typical Ayckbourn comedy, with three couples whose lives intertwine in a way which threatens to have far-reaching consequences. The playwright focuses on the middle classes and their attitude to marriage, just as he did in one of his earlier plays, How the Other Half Loves, which the New Vic revived last year.
The difference here is that George Riley, the man whose life is scrutinised by every member of the cast, never actually appears on stage. In the programme Ayckbourn admits he's used offstage characters on numerous occasions, although this is probably the first time the unseen person is the principal protagonist.
Life of Riley centres on how the six people react to the news that George is terminally ill with cancer and has only a few months to live. As the play progresses it transpires that George's relationships with three women go much deeper than appears on the surface. Consequently the women's bonds with their respective partners undergo a searching examination.
Just as in How the Other Half Loves, Ayckbourn writes the women's parts with a deftness which comes from realising that women prefer to discuss their problems with other women. Even when Kathryn and Tamsin, two of the characters in Life of Riley, have had a fierce row, afterwards they're still able to confide in each other and reveal their greatest fears.
Ayckbourn who directs astutely has reunited all six actors who appeared in his time-warp thriller Communicating Doors which has just finished a run in Scarborough. The result is a tight, sparkling production from a troupe who work superbly together.
Liza Goddard is a natural as Kathryn, the indiscreet gossip who wants to know all about her doctor husband's patients and can't wait to pass on the information she wheedles out of him.
Kim Wall as her husband Colin is suitably wimpish and henpecked, surprising everyone towards the end when he finally puts his foot down and imposes his will on Kathryn. Wall's body language is a joy, especially when he's trying to sit down unobtrusively when a tribute to George goes on too long and also when he's trying to move in time with the music at a party.
Laura Doddington, seen at the New Vic earlier this year playing Lesley in Michael Frayn's Alphabetical Order, is almost totally unrecognisable from that part. She marvellously portrays Tamsin, the Essex wife who's had enough of her womanising husband and is quick to quarrel with anyone who stands in her way.
I didn't care for Ben Porter's portrayal of Tamsin's husband Jack - although the character isn't one you can warm too, Porter didn't appear convincing to me in his sorrow when he heard his best friend George hadn't got long to live.
Laura Howard earns respect for her portrayal of Monica who was married to George for 11 years before walking out on him; she's torn between her duty to George in his last days and her love for her new partner.
Jamie Kenna has only a small part as farmer Simeon who's living with Monica; he expertly shows how exasperated he is by Monica's behaviour yet proves to be the rock she was looking for.
You can usually expect a good night's entertainment from any Ayckbourn play, especially one the author also directs. And by George, Life of Riley shows the prolific playwright still knows the formula for success.
"The Life of Riley" continues until November 6th
Sheila Connor reviewed this production on tour at the Yvonne Arnaud, Guildford
Reviewer: Steve Orme