And a Nightingale Sang
C P Taylor
Coliseum Theatre, Oldham
(2010)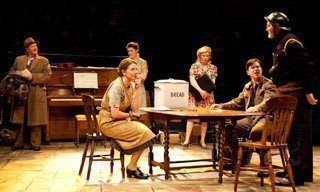 The Coliseum's co-production with the New Vic, Newcastle-under-Lyme of C P Taylor's wartime comedy And A Nightingale Sang, set in the other Newcastle, ends its short tour in Oldham.
The story takes us from just before the declaration of war in 1939 through to the immediate post-war period in the home of the Stott family near Newcastle-upon-Tyne. George - or 'the Coalman' as he is often referred to - almost all of his time playing and singing current hits at his beloved piano, whereas his wife Peggy spends all of her time looking after the affairs of the church or examining her statue of 'Our Lady' for changes in her facial expression. Their eldest daughter Helen, nicknamed 'the Cripple' because of her pronounced limp, is the main figure of stability in the family and the story's narrator, whereas her younger sister Joyce is more flightly and less reliable. The final member of the family is granddad Andie, who has a fairly casual attitude towards everything in life except for his beloved pets.
As the story opens, Joyce is dithering over whether to see soldier Eric who has come to propose to her before he goes away for his training, Peggy is panicking over a crisis at the church, Andie is carrying his dead dog around in a sack in preparation for her funeral and Helen tries to keep the peace between them all, until the chaos takes a different turn when they experience their first air-raid. Later in the play, Joyce's uncertainties about Eric change as he prepares to come home after so long away that he is a stranger to her, Andie gets a cat that he carries around in a basket and Helen receives unexpected attention from soldier Norman.
Any historical play says more about the time in which it was written than the time in which it is set, and this is the 1940s through a 1970s lens with touches of working class naturalism and a casual approach to plot that were common in some areas of British theatre and film but it appears to have aspirations to be a traditional popular comedy. This mixed bag isn't entirely successful, coming across more as a series of set piece scenes than a coherent story, with some great moments and some that are a little drawn out and repetitive, particularly the later frank discussions between Helen and Norman.
The narration from Helen is so extensive that at times it feels more like having a novel read to you than watching a play and sometimes there is unnecessarily duplication when something we can see for ourselves is described to us or a scene is just building to something interesting when it is cut short by narration telling us what happens next instead of letting us see it.
Aside from the flaws in the play, Sarah Punshon's production has some fine elements to it, not least the performances from an excellent cast. Laura Norton is perfect as the strong, practical but naïve Helen who goes from the 'good girl' to the outcast and has responsibility for telling us most of the story. Anna Doolan is firm but a little manic as her strict Catholic morality is tested by the actions of her family, supported well by Simeon Truby, who provides a constant musical soundtrack to the action and some sharply sarcastic wit.
Michael Imerson gives a very natural performance as the appealing but, we are led to believe, not entirely truthful Eric and Jack Bennett is great as the besotted and later emotionally-torn Norman. However it is Ged McKenna as Andie who really stands out with a performance that perfectly balances the realistic with the comic and manages to make even the most clunkily-written overlapping conversations - where a question and its answer could be minutes apart - seem almost natural.
Helen Goddard's claustrophobic set design gives the actors a multifunctional space backed with a brick wall with an upper level for the bench where Helen and Norman meet which works adequately, although the spectre of the barrage balloons in the background are fine in conception but poor in realisation as they are made of a modern shiny plastic that looks like something from a party shop. The wartime songs are mostly sung by George as part of the play (or diagetic if you want to be technical) but there are some songs sung in harmony by the full cast directly to the audience, which sound wonderful.
Whilst the script is flawed and overlong and would have been more effective as a straightforward comedy, there is plenty to enjoy in this production, from good, well-performed comic scenes to lovely music to a wartime nostalgia for those who were around at the time. These events were during the lifetime of many of the audience at the reviewed performance including the person I was with who still expressed disbelief at the events in the play that he actually lived through.
Running to 3rd April
Reviewer: David Chadderton