Peter Pan
J M Barrie, adapted by Theresa Heskins
New Vic, Newcastle-under-Lyme
(2010)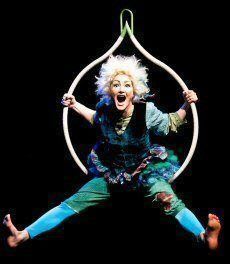 The New Vic has an excellent reputation for its Christmas shows which are usually a major contrast to the traditional panto on offer down the road at the Regent in Stoke. Peter Pan, which includes some of the finest aerial sequences from actors that you're ever likely to see, should elevate the theatre's standing even further.
For the second year in a row the New Vic's artistic director Theresa Heskins has adapted the seasonal offering. Last year The Lion, the Witch and the Wardrobe broke box-office records; it will be surprising if Peter Pan doesn't equal it.
There've been a number of versions of Peter Pan in recent years which have either tried to turn the show into a panto or have used elements of slapstick in an effort to increase the enjoyment. Heskins doesn't sink to any such devices.
Her adaptation takes not only sections from Barrie's play about Peter Pan but also his novel. The result is a performance without songs and with very little comedy - yet it captivated everyone in the audience on the night I saw it.
It might be slightly unfair to single out the aerial sequences for praise because that might detract from the fine acting and clever staging which have become hallmarks of most New Vic productions. But the overhead action is so visually outstanding that it's worth the price of admission on its own.
The scene in which Peter and Tinker Bell take Wendy, John and Michael off to Never Land is spectacular; all five are suspended - without a harness - from white, silk fabrics just below the nine-metre-high roof, yet they have complete faith in their ability as aerial performers.
That's almost eclipsed by the magical sequence in which Peter and Tinker Bell fly off together when she comes back to life after swallowing poison intended for the boy.
Peter Pan is the second production Vicki Amedume from the company Upswing has worked on at the New Vic. Last year she created similar mid-air magic for The Wicked Lady. That production couldn't have worked without a number of fine acting performances and the same can be said about Peter Pan.
New Vic regular Michael Hugo is suitably boyish as the lad who never grew up; there's no surprise that Wendy and her siblings want to go on adventures with him.
Ali Robbins' Tinker Bell is a mischievous, jealous, tantrum-prone fairy while Andonis James Anthony as Captain Hook is wicked enough to earn a few boos without being a baddie in a typical panto way.
There are fine performances from the rest of the enthusiastic and dedicated cast, especially Morgan George who not only plays Smee without the frivolity normally associated with the character but also doubles as the Darling family's Newfoundland dog!
I had reservations about how the theatre-in-the-round would cope with portraying everything from the Darlings' home to Never Land and a pirate ship - they're done so quickly and slickly that the breaks between scenes are hardly noticeable.
J M Barrie's most famous work has been sanitised over the years - some of its darker elements including the desire to do harm to others and selfishness have been submerged under trivialities and light-heartedness in certain productions. Here they're treated as part of the story, to be faced and overcome.
Theresa Heskins' adaptation might present audiences with something they're not expecting - but it's pure entertainment from start to finish. The tickets should be flying out of the box office.
"Peter Pan" runs until January 22nd
Reviewer: Steve Orme