The Price
Arthur Miller
New Vic, Newcastle-under-Lyme
(2009)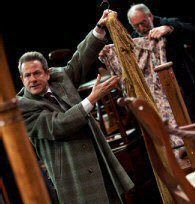 A successful businessman who lost everything when the Stock Market crashed; two brothers who've not spoken for sixteen years because of the career choices they made; and four people faced with a financial transaction which has a different meaning for each of them. The Price was written towards the end of the 1960s yet it's equally relevant now during the present economic crisis.
Robin Herford, best known as director of The Woman in Black which has been running in the West End for the best part of twenty years, began talking to the New Vic twelve months ago about staging The Price. Few people at that time were predicting the economic downturn - but even if the credit crunch had not added a degree of irony, Herford's production would still have been a huge triumph.
The Price, set in New York in the 1960s, outlines how the Great Crash of 1929 and the subsequent depression affected the Franz family.
On the death of their father, two brothers have to clear his apartment before it's knocked down. The furniture harks back to a time when the father was affluent before he had to downsize.
The brothers had been forced to make a choice many years before about how to react to their father's predicament: Walter was determined to finish his studies and become a doctor while Victor took an unfulfilling job as a policeman so that he could take care of his father. Now Walter is a wealthy surgeon while Victor is approaching retirement without any financial security.
An 89-year-old salesman who's brought in to value the furniture sees this as an opportunity to buy at a low price and sell at a huge profit. But Victor's wife Esther believes they can make a new start if they get a decent amount for the furniture.
The first half is characterised by a superbly written sparring session between Victor and salesman Gregory Solomon.
The late arrival of Walter just before the interval signals a change as Miller dissects the brothers' awkward relationship and builds the tension with several unexpected revelations.
Christopher Godwin is outstanding as Solomon and displays all the characteristics of a frail old man, shuffling unsteadily, coughing uncontrollably and giving concern that he might not survive the evening.
Tom Hodgkins gives an understated yet nonetheless impressive performance as Victor, the caring, principled brother. Early on he constantly presses for a fair price for the furniture but later his resentment for Walter spills over after being told he accepted far too low a price.
Paul McCleary gives a powerful performance as Walter who confesses that the price of becoming a successful doctor was not having the time to dedicate to relationships.
Hodgkins and McCleary work superbly together as the brothers who don't understand each other and doubt the other's motives for taking their respective life decisions.
Deborah Maclaren is splendid as Esther, bullying her husband into bettering himself yet being supporting and defending him wholeheartedly when Walter dares to criticise him.
With classy direction by Herford and a clever set full of period furniture by Michael Holt, this is a superb production.
Apart from the odd occasion when one of the actors drops the American accent, this is a flawless, unmissable presentation.
"The Price" continues until March 14th
Reviewer: Steve Orme