The Rivals
Richard Brinsley Sheridan
New Vic, Newcastle-under-Lyme
(2011)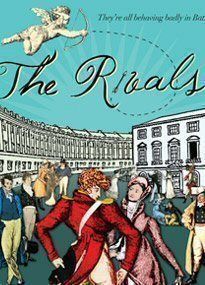 Programming a rep season, which the New Vic has done to mark its 25th anniversary, can be a thankless task. A theatre needs a choice of plays offering variety, risk and freshness as well as entertainment.
There's also a requirement for a couple of bankers which will not only bring in audiences but also prove challenging for the actors.
Sheridans's The Rivals is a fairly obvious choice on both counts. It's a play most people know something about, even if it's only for the character of Mrs Malaprop, while there are a number of parts which can demonstrate an actor's talents.
The freshness here comes courtesy of director Theresa Heskins who's edited Sheridan's masterpiece down to just over two hours. That means it rattles along at a brisk pace which rarely lets up, although I have the feeling that some theatregoers who are new to the play might not completely understand the intricate relationships between all the characters.
The Rivals has to work on a couple of levels if it's to succeed; first of all, Lydia Languish has to be young, pretty and credible as a woman who would have three men vying for her affections. Joanna Higson who gave a stirring performance in another of the rep season plays Spring and Port Wine is just as impressive here. There's no doubt she would appeal to men of different ages and she's able to portray Lydia as an immature romantic ready to defy her guardian Mrs Malaprop.
Mrs Malaprop has to have a certain amount of gravitas as well as being a figure of fun if the character is to make the most of Sheridan's comic lines. Joanna Brookes gives a master class in the role: she comes over as a cross between Hylda Baker and Hyacinth Bucket. She's pseudo-aristocratic yet slightly common, educated yet ignorant. It's a slightly over-the-top interpretation without too much affectation which works splendidly.
This production has the addition of a few other actors who make it memorable. There's Richard Elfyn, who gave such a magnificent performance as domineering father Rafe in Spring and Port Wine who's majestic as Sir Anthony Absolute. His scene with his son Jack, played spiritedly by Oliver J Hembrough, in which they argue over who Jack should marry, is superb.
Paul Greenwood, commendable in David Auburn's Proof in this rep season, is completely different as the manipulative but affable Sir Lucius O'Trigger. His scene in which he encourages Bob Acres to fight his love rival - both are very drunk at the time - is staggeringly good.
Michael Hugo, a New Vic stalwart, gives his customary exemplary performance although he doesn't quite fit Lydia's description of "odious Bob Acres". Hugo is talented enough to bring out Acres' buffoonery and cowardice but he never appears odious. However, that aberration must be put down to Sheridan rather than the actor or director.
A word too about Victoria Gee. She's the only member of the company to appear in all four plays in the rep season. Here she shows her versatility by playing Bob Acres' servant David and makes a commendable job of it.
Theresa Heskins directs with assuredness while Michael Holt's design is simple yet effective.
The Rivals is a perfect choice for a summer's evening and this version, to paraphrase Mrs Malaprop, takes you to the pineapple of pleasure.
"The Rivals" runs until July 28th
Reviewer: Steve Orme