A Taste of Honey
Shelagh Delaney
New Vic, Newcastle-under-Lyme
(2009)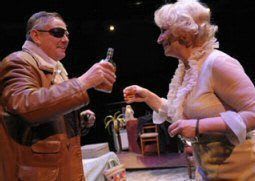 Mention A Taste of Honey to people of a certain age and they'll automatically think of the film with irrepressible Dora Bryan as the spirit-swilling, loose woman Helen.
Yet the piece, considered a classic of its time and written by teenaged usherette Shelagh Delaney, began as a stage play. It proved to be the saviour of Joan Littlewood's Theatre Workshop company as the production enjoyed a six-week run at the Theatre Royal Stratford East before transferring to the West End.
As much as I tried to forget Dora Bryan's interpretation, I found it impossible - until Janice Connolly took to the New Vic stage.
I saw her a couple of years ago at the Edinburgh Fringe when she was performing her one-woman show as housewife, mother and Take a Break reader Mrs Barbara Nice. Her experience of stand-up makes her ideal for the part of Helen.
In the stage version Helen delivers some of her lines as asides. Connolly laps this up, improvising as she strikes up a conversation with members of the theatre-in-the-round's audience at every opportunity. She's also jolly when she gives us a tune that's reminiscent of a tipsy pub singer on a Saturday night.
Some comediennes who've turned to acting go for too many laughs and at times I thought Connolly might have been overdoing it. But her lighter moments mean that the serious scenes become all the more poignant and sad; Connolly pitches the role to perfection.
The tension when Helen and toyboy Peter return to her daughter Jo's flat in the second half is so uncomfortable it's almost palpable.
A Taste of Honey tells how Jo and her mother move into a dingy bedsit which is like all their previous "homes". As Helen resumes her relationship with fancy man Peter, Jo yearns for a life of her own. But her plans are thrown into confusion when she gets pregnant by her boyfriend who's about to sail off around the world. Jo needs someone to look after her and it's left to gay art student Geoffrey to fill the void. Despite that, Helen still thinks she can look after her daughter, even though she's not made a good job of it in the past.
If Connolly is ideal for the role of Helen, Joanna Higson is just the right age to play Jo. She's well able to express the vulnerability of a schoolgirl and the independence of an adolescent who wants to escape from her mother's clutches.
Mark Chatterton is suitably nasty and chauvinistic as one-eyed Peter who doesn't want a schoolgirl getting in the way of his having fun with Helen.
Duane Hannibal gives a measuredly understated performance as Jimmie while Darren Southworth as Geoffrey adds a note of seriousness and reality in the second half.
I wasn't totally convinced about Howard Gray's piano being located in the kitchen and his reacting with those on stage when he wasn't accompanying their singing. But if I'm honest that's nit-picking.
Gwenda Hughes who left the Staffordshire venue in December 2006 directs with gusto and affection for the space that only a former New Vic artistic director can demonstrate. In her hands A Taste of Honey has pace, passion and power that leaves a sweet aftertaste.
"A Taste of Honey" runs until May 23rd
Reviewer: Steve Orme