New York State of Mind
Sam McCready
Green Shoot Productions
Baby Grand, Grand Opera House, Belfast
(2007)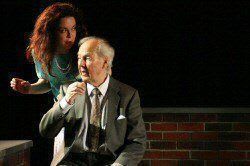 Some dramatic texts are best left to yellow at the back of the author's filing cabinet. New York State of Mind, written by veteran Ulster-born dramaturge Sam McCready and given its world premiere by fellow playwright Martin Lynch's Green Shoot Productions in Belfast's Grand Opera House's new little sister, the Baby Grand, is, sadly, one of them.
McCready is from an older school of northern Irish thesps whose milk teeth were brushed by the onetime Grande Dame of Belfast the Belfast stage, Mary O'Malley who began and sustained the city's Lyric Theatre when it was dedicated as a memorial to the dramatic talents of W B Yeats, but whose productions were too often more akin to sealing them in a mausoleum.
A gentle soul, and an actor with a Celtic gnomic mien, McCready headed drama at teacher-training college before crossing the Atlantic to become Professor of Theatre at the University of Maryland and a director, in the Lyric's style, of off-Broadway Yeats.
His new work, which might just have worked on the wireless, is that it is a low-budget three-hander in epistolatory mode centring on an exchange of letters between Billy McIlrroy, a foul-mouthed aspiring Belfast actor offered his first role off-Broadway, and R J McGibbon, his mentor, an elderly character actor from the same city who has carried spears, as it were, for Sir Ian McKellen, Elizabeth Taylor, Alec Guinness and "Larry" Olivier. Part of the sales pitch was to throw in decent Anne, a female part, as Billy's long suffering wife back home with the kids, befriended by R J, in contact with her husband by public pay-phone.
So, inevitably, against David Craig's symbolic set of redbrick for Belfast and fire-escape for New York, bombastic Billy's talent falls to the Celtic Midnight Cowboys of drink, drugs, ego and sex as Anne despairs and so too does R J who'd looked for another Stephen Boyd, a Hollywood star who in real life had started life, in Belfast, as Billy Millar.
Roland Jaquarello, like McCready, an AD at the Lyric in his day, puts in but a perfunctory direction which does little to turn these clichés into a drama. Harry Towb, now in his '80s, could charm by reading the telephone directory, as could Laine Megaw by just turning its pages, yet this is a truly dreadful experience.
For McCready's R J is but a collection of anecdotes culled from the now dark Ulster Arts Club of the 1970's and his Billy such a charmless lout that no one cares about his downfall. That David Ireland, de profundis, as Billy looks much like Ricky Gervais, adds little to the sorry potion.
There was obviously, in the author's mind, a plan to debate classical versus improvisational stagecraft, plus the exorcicism of his own bruising memories of struggling with New York's various demons, theatrical and otherwise. But these fall to nought as neither his text, nor Jaquarello's laissez faire direction, create one single bond between the three characters on stage. In addition, gentle McCready's personal unease with Billy's unrelenting useage of four-letter familiars creates an atmosphere embarrassing for the author's own genteel fans of yesteryear.
Baby Grand till Saturday 29th, then touring nightly from October 1st, Magaberry Prison, Larne, Londonderry, Bangor, Newry, Downpatrick, Holywood. Details from [email protected]
Reviewer: Ian Hill