Twelfth Night
William Shakespeare
Open Air Theatre, Regent's Park
(2008)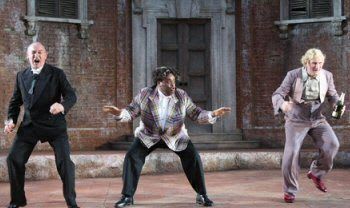 I'm not into numerology, but thirteen has always held a certain mystery: feared by many, thought lucky for some. Superstitious types might question an opening night of Friday 13th, but here we were to welcome Twelfth Night, the play that inaugurated performances at this venue back in 1932.
A lowering sky suggested a coming tempest: fitting, then, that proceedings open to thunderclaps, smoke and a bedraggled Viola, separated by a storm from her twin Sebastian, each assuming the other dead. Taking a male disguise to be close to Olivia, admired for the steadfast mourning of her own brother, Viola/Cesario, now a courtier to Duke Orsino, is asked to woo Olivia for the Duke.
A convoluted plot - with men kissing men (who are women), women kissing women (who they think are men), mistaken identities, unrequited love, and the humiliation of Olivia's steward Malvolio as a sub-plot - is rendered lucid in director Edward Dick's sparkling production.
Praise must go to Clive Rowe's mobile and mellifluous Fool, who conveys the wisdom of knowing he is a fool, and whose singing is to die for - a reminder that this is one of the most musical of Shakespeare's plays. Songs are successfully reframed to a 1940's big-band backdrop, and even the addition of some fruity new lyrics is forgiven.
Richard O'Callaghan's 'ill-willed' Malvolio has just the right balance of self-righteousness and priggishness to justify his downfall, yet manages to elicit sympathy in his yearning for love, aided by the actor's doggedness in fighting to retrieve the precious letter from his 'beloved' that had slipped down the earthy bank of the stage.
Claire Benedict is a fine Maria, determined to find a man's thumbscrew. Tim Woodward's champagne-swilling Sir Toby Belch, Clive Hayward's floppy-haired foppish Sir Andrew Aguecheek (outstanding) and Andy Cryer's Fabian, all excel individually and, as a scheming trio intent on gulling Malvolio, drew howls of laughter from spectators.
If clothes do make the man, then Natalie Dew as Viola/Cesario, appears to relish temporary freedom from women's 'weeds', in grey three-piece suit and tan brogues, her hair plaited (a mirror of Neet Mohan's Sebastian), combining male mannerisms with a feminine beauty to confound Oscar Pearce's variously fiery and melancholic Orsino: moments of confused lust between the two are funny, tender and erotic.
Janie Dee stalks the stage as an urbane, seductive Olivia, achieving a plausible transition from seven year abstinence to instant melting in Cesario/Viola's presence. And Richard Cotton pitches his Antonio perfectly as a salty seaman whose ideas of virtue and loyalty are temporarily rocked to their foundations.
As with all the Comedies, there are serious undertones: the power of the written word misinterpreted; the fine line between madness and sanity; mourning and letting go: this sophisticated interpretation keeps these in mind, whilst retaining its happy buoyancy.
That the Magi brought gifts on Twelfth Night has nothing much to do with Shakespeare's title, yet this production is a gift, a rich jewel on a dark June night. Luck had nothing to do with it: as an audience, we simply had greatness thrust upon us (and the rain held off).
Reviewer: Anita-Marguerite Butler