The Beggar's Opera
Book and lyrics by John Gay
Musical arrangements by Roddy Skeaping
Open Air Theatre, Regent's Park
(2011)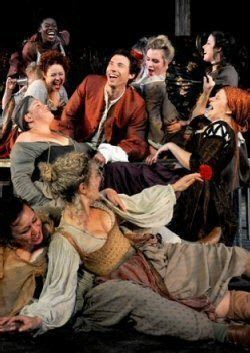 The Open Air's colourful revival of The Beggar's Opera, John Gay's musical comedy — a world first of its kind — fills the stage with the lively London low-life of the early 18th century but does not resist the temptation to succumb to a knockabout farce of bums and bosoms.
As written, Gay's satirical ballad opera, set in the sleazy world of Newgate and Tyburn, all but disappeared during the last century, obsessively updated to other centuries, its music rescored or replaced, even losing its tunes entirely in a melody-free version by Czech playwright Vaclav Havel. Brecht borrowed Gay's plot for his satirical Threepenny Opera, which he set in Soho, but Kurt Weill's haunting songs are firmly rooted in the Berlin musical theatre scene of the 1920s.
If the tinkering happened it was because Gay's book and lyrics could no longer be recognised as a lampoon of Walpole's corrupt Whig government nor a tongue in cheek send-up of Italianate opera.
But director Lucy Bailey and her designer-partner William Dudley, decided it was time to restore Gay's witty 1728 original, with its authenticity of tone played and sung against a musical tally of 69 street songs and the popular tunes of the period.
If their first intention had been to stage it at Covent Garden, the Arcadian atmosphere of Regent's Park — with the dark unwelcoming doors of Newgate Prison seen against a leafy backdrop — works a treat.
At the start a decorative front cloth, based on one of those Heckel engravings of the period, swiftly vanishes to reveal the threatening reality of the Tyburn gibbet, furnished with multiple hangman's nooses, while downstage the pimps and whores of Newgate do a round dance at the end of chains like a sad Grecian Maypole celebration.
Dance soon done, this then becomes the Peachum family parlour, home of the notorious fence and his woeful wife, their wordy dialogue segueing seamlessly into reedy songs somewhat lacking in dramatic emphasis, given thin melodic support by The City Waites' backing sextet.
Afternoon rain had dampened the spirits of the Press Night audience, making us slow to respond, and it was at this moment, as the grossly mismarried parents of Polly Peachum fall into mutual loathing, that an evening of worthy, but potential lost opportunities seemed to loom.
Luckily our expectations were renewed as heroine Polly, prettily portrayed and sweetly sung by Flora Spencer-Longhurst, tumbled out of her marital love bed of silken coverlets, followed by secret husband Captain Macheath, strongly played by handsome hunk David Caves with a fine light baritone voice.
Gay's plotting is not his strongest suit, but he provided some delicious set pieces, his masterstroke being to put Macheath in jail and at the mercy of his alternative bride, Lucy Lockit, then bring on Lucy's rival Polly for a three-sided love tussle that, as played here, exceeds even the spiteful spat of Helena and Hermia in A Midsummer Night's Dream, although some may say that the squabble between rivals was borrowed from Shakespeare.
Musically the trio that opens with Macheath's 'How happy could I be with either, were t'other dear charmer away' was lent a glorious harmonic wholeness as the girls join him in the vocal highspot of the evening.
The lachrymal Lucy is brilliantly played and sung by Beverly Rudd, not only an actress of striking agility and powerful character delineation but also one to touch the heart with her sweet, final acceptance as the loser in the love struggle.
The other actor who caught my imagination was Phil Daniels as the devious Lockit, an unscrupulous jailer who, in this nifty performance, manages to reveal the villainy while at the same time giving his role a nicely rounded image of likeability and good natured common sense.
As designer, Dudley has created two oversize farm carts with large side rollers and horse shafts which he deploys with increasing ingenuity as we pass from scene to scene, but it would be a spoiler were I to explain their functions in any detail. Let us simply say that here design cleverly meets the needs of Ms Bailey's swift-flowing staging in every respect.
Reviewer: John Thaxter