The Boy Friend
Music, lyrics and book by Sandy Wilson
Open Air Theatre, Regent's Park
(2006)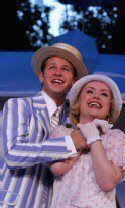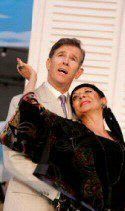 At the close of a wondrous first night of song, dance and romantic comedy, the Open Air audience gave composer author Sandy Wilson a spontaneous standing ovation as he stepped on stage, 53 years since this enchanting musical first aired at the Players in London.
At the West End transfer in 1954, Noël Coward told Wilson, 'There are only three good lyricists left, you, me and Cole.' He might have added that few have written so many instantly memorable melodies, a dozen or so that will have you humming the score on the way home.
This evergreen show is an affectionate pastiche of 1920s musicals, neither spoof nor parody but a tuneful work in its own right, and I must confess my eyes were moistened with tears of joy by Ian Talbot's delicious Open Air revival.
Set in the innocent world of a finishing school in Nice it comes very close to the original production in terms of wit, sweet simplicity and precision movement and dance.
Taps, Charlestons and the highest of high kicks, superbly choreographed by Bill Deamer, are made to look easy by a deft and dazzling young cast — none more so than the marvellous Summer Strallen as Madcap Maisie, splendidly partnered with hoofer Michael Rouse as Bobby van Husen — here gaining the benefit of a slightly larger band, led by Catherine Jayes at the piano.
Paul Farnsworth's stage design is flanked by sandcastles that help suggest the beach setting for the second act. And his beautiful costume designs, including those for a fancy-dress ball, create instant Twenties nostalgia (although Maria Charles who starred in the original production, told me with a twinkle that she had been hoping to see bloomers not briefs under the girls' swirling skirts — and tutted at my typical male preference for leggy delights).
Gorgeous Anna Nicholas as headmistress Madame Dubonnet, is a vision of French sophistication sur le plage, with a vocal style to rival Piaf, renewing a romantic acquaintance with Steven Pacey as her long-lost millionaire sweetheart, 'petite Percy'.
Meanwhile for her pupils the essential accessory is that elusive boy friend, as Percy's daughter Polly falls head over heels for Tony. On his 'beam ends' and working as a messenger for a few francs a day for a local costumier, Tony is in fact an 'Hon' on the run from Oxford and from his doting parents Lord and Lady Brockhurst.
This Polly only discovers in the closing minutes of the show as she and Tony are reunited in a tender kiss, while the entire company joins in a melodic reprise of their love theme, "I Could Be Happy With You".
Talbot has never before both directed and appeared in a production, but he does a fine turn with Selina Chilton as Dulcie in "It's Never Too Late to Fall in Love", even attempting a rheumaticky dance that adds to the fun, before being caught by Jennifer Piercey as his disapproving lady wife with a lorgnette.
The show has always been a star-maker — the Broadway production launched Julie Andrews' international career, as did the 1972 film version for Twiggy. The magic seems to be working again, this time for Rachel Jerram as Polly, with a wonderful voice and commanding stillness making her professional debut with this production, which will also serve as her graduation performance from the Guildford school of acting.
She is expertly partnered by gifted musical performer and dancer Joshua Dallas, whom I first saw in the 50th anniversary touring production, here again in scintillating form as the fleet of foot Tony — Pierrot to Polly's wistful but finally radiant Pierette.
Finally a special word for Claire Carrie (aka Mrs Talbot) who won the evening's first impromptu round of applause with her marvellously gallic Hortense, which crowns a series of Open Air triumphs.
Postscript:
Seven weeks after I enjoyed this lovely show at the original July press night, I returned on another balmy evening to repeat the pleasure and was not disappointed.
And it is surely worth reporting that Summer Strallen's eye-catching Maisie now sports feminine frilly bloomers for her fantastic, high-stepping Charleston with deft hoofer Michael Rouse — which must surely mean that someone in the costume department took Maria Charles's cheeky remarks about M&S knickers to heart.
I am also happy to report that Cameron Mackintosh was in the audience, giving mega-applause to La Strallen, and also to Ian Talbot whose Lord Brockhurst has gained some extra comedy touches and an even more tuneful voice — literally stopping the show for many minutes with the most enthusiastic cheers I have ever heard at the Open Air.
Is it possible that Mackintosh will take the show into the West End? My own guess would be that this gorgeous production will first tour the regions, bringing delight to our many readers right across the UK. Then, if another London run is in the offing, I predict there will be one or two cast upgradings, perhaps the talented but inexperienced Rachel Jerram making way for a bigger 'name' to carry the leading role of Polly.
I also think the final number, Poor Little Pierette, could benefit from re-scoring to give it more vocal and rhythmic variety, especially as the glorious Anna Nicholas as Madame Dubonnet is such a starry presence with more than a touch of the divine Piaf — or á la Shirley Bassey as my wife pointed out!
Reviewer: John Thaxter