Hello, Dolly!
Music and lyrics by Jerry Herman, with a book by Michael Stewart
Open Air Theatre, Regent's Park
(2009)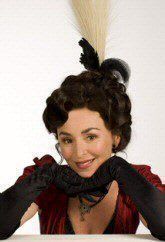 At the curtain call of Hello, Dolly! the entire cast usually gathers on stage for a reprise of its title number. That's true at Regent's Park, but to be fair it's a helluva good song and Timothy Sheader's well-drilled singers and hoofers go a long way to bring tuneful lustre to the rest of Jerry Herman's melodic but instantly forgettable score.
Towards the close of the Open Air press night the lightest of drizzles made the playing space potentially hazardous for dancing feet. But not for a moment did the weather damp the audience enthusiasm, nor rain on Sheader's colourful parade, a gloriously enjoyable production that adds a brash Yankee Doodle display of presidential bunting to this New York Jewish celebration of love and marriage.
Drawn from Thornton Wilder's comedy The Matchmaker, the central plot is a happy tale of how the determined Dolly Levi eventually wins the heart and hand of mean and grouchy Horace Vandergelder, while bringing equal joy to several other potential partnerships.
The original plot comes from Johann Nestroy's Austrian farce about a couple of grocery assistants who spend a night 'on the razzle' (as Stoppard later renamed it), enjoying the high life of Vienna at their employer's expense.
Their antics became a subplot in the Wilder version. But once the brassy Carol Channing took over as the musical Dolly, playing more to the audience than to fellow actors, the boys were almost being sidelined as clowns, sent in to provide pratfalls and knockabout comedy while Channing changed her costumes.
Not so here. The adorable Samantha Spiro's Dolly is the absolute star of this show, a figure of enchanting zest who dominates the stage whenever she makes an entrance. But as Dolly, more actress than musical comedienne, she is also a great little trouper, a generous performer whose energetic ease and command of the stage embraces the whole company in its warmth. Do go and see it for yourself to see what makes for a happy cast and gives the show its vital force.
She is of course matched with the equally gifted Allan Corduner as the object of Dolly's plan, an actor first but whose light tenor voice, apparently making its debut on a London stage, brings a comic chauvinism but also a touching appeal to his big first act number, It Takes a Woman, that had couples in the audience nodding at its slyly amusing sentiments.
The other revelation is that, in the right hands, the otherwise sidelined character of Cornelius Hacker, Vandergelder's chief clerk, played here by Regent's Park regular Daniel Crossley, is also capable of spreading his own starry magic on the plot: another light tenor — the evening's clear vocal standout — whose love match with Josefina Gabrielle's glamorous Irene Molloy is a song and dance delight throughout the evening.
This is also a company show with a 25-strong roll-call and several striking cameos, including Annelisa Rossi as the butch glamour-puss Ernestina, Andy Hockley bossing the chorus line of high speed waiters as Rudolph, the restaurant maitre-d, plus a winning smile from Akiya Henry as Minnie, the hat shop assistant.
There should also be applause for the ever hardworking Open Air wardrobe department and to designer Peter McKintosh whose handsome rotunda staging helps make every member of the audience feel that they are at the centre of things, the whole enhanced by superb lighting by Simon Mills.
It is now 25 years since the last major Dolly revival, then with Danny La Rue miscast in the title role, so when summer is done, it would be good to see Tim Sheader's company taking off to the West End or on a Number One tour with his bold, joyful and highly innovative production.
Reviewer: John Thaxter