The Importance of Being Earnest
Oscar Wilde
Open Air Theatre, Regent's Park
(2009)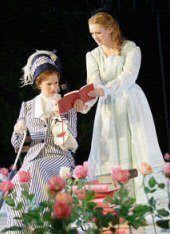 Wilde's witty masterpiece is a tricky choice for an Open Air production. Shakespeare realised that when actors are competing with the weather and birdsong the need is for short sharp scenes, frequent switches of plot and location, plus plenty of vivid action.
Wilde instead extends his fragile plot of manners and modes across three longish acts, expecting us to derive our pleasure almost wholly from following his exquisitely shaped repartee and subtle character changes.
His comic effects often turn on an elegant phrase or single word, something that director Irina Brown has rightly called the minutiae of Wilde's text. So how has she met the challenge?
Sticking strictly to the script she has opted for head mics and high quality amplification, coupling the actors' precise vocal delivery and body language with some of the most eye-catching but cumbrous settings ever seen on this stage. And if at 2 hours 45 minutes it is too long for comedy, much of the evening is a delight.
The standout performance, with superb diction and debonair stage presence, is given by rising star Dominic Tighe as Algernon, who opens the play with his first few lines repeated and remains the watchable figure throughout the evening.
He even has a dangerous-looking wrestling match with Ryan Kiggell's austere Jack, the two rolling back and forth across a white-wood dining table, before he finally relinquishes the disputed cigarette case.
Spotting Susan Wooldridge's name in the cast list as Lady Bracknell leads one to expect a demure rendering of this matronly gorgon. In some respects this proves to be the case, but, stylishly gowned and hatted, she delivers those familiar lines with a freshness that rewards her careful study of the text.
Her version of the 'handbag' line respects Wilde's exclamation mark rather than Edith Evans' famous note of haughty query and there is a lovely moment when she inserts a pause between 'Mister' and 'Worthing' to telling effect.
Jo Herbert's Gwendolen is a real goer in late Victorian finery, dazzlingly dressed for Shropshire in a superb day dress with striking vertical stripes that emphasise her slender figure. Lucy Briggs Owen is an equally delicious Cecily whose girlish innocence is emphasised by an ankle length dress and a happy ability to skip flirtatiously suggesting someone younger than her years.
As a fan of both Julie Legrand and Richard O'Callaghan I was looking forward to some strong character comedy from their Prism and Chasuble roles and was surprised that they never quite pulled off a coy but believable relationship, although she cleverly used the set's curving walkway to trudge guiltily down the slope with comic contrition.
Designer Kevin Knight's fussy adaptation of Philip Witcomb's season setting does the production no favours. In the first act a vast curved mirror in Algernon's apartment, meant to suggest high living and 21st century vanity, redirects a powerful spotlight straight into the audience's eyes, while a field of garden roses thickly planted for the second act gets in the way of the actors and takes too long to clear before the start of Act 3.
Rain had threatened all day, but I have never known an Open Air press night to be called off for the weather. Then just before the interval the ever-present threat of rain did manifest itself with a light shower, a rustle of raincoats and umbrellas, while a waggish fellow critic remarked that this was a meteorological preview for 'Hello, Brolly!' opening next month at this theatre!
Reviewer: John Thaxter