Into the Woods
Stephen Sondheim (Music and Lyrics) and James Lapine (Book)
Open Air, Regent's Park
(2010)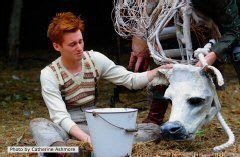 Before the show begins the surprise is to find the Open Air Theatre's naturally bosky backdrop of bushes and trees, surely the perfect outdoor setting for Stephen Sondheim's fairytale Into the Woods, masked by an intricate maze of multilevel platforms, linked by a network of straight and circular staircases.
But this is not to reckon with Timothy Sheader's brilliant vertical staging, which also reaches into the topmost boughs of a tall tree for Rapunzel's bower and, at one point, has the threatening head of a vast and vindictive giantess (voiced by Judi Dench) glowering over the treetops in a clever collage of dustbin lids and bike-parts, plus two pink brollies for eyelids.
Meanwhile the woods themselves come alive at dusk with Jon Clark's highly effective lighting design that both penetrates and cleverly highlights the action.
The libretto by James Lapine links the English panto of Jack the Giant Killer with Perrault's European nursery tales, while Jack, Cinderella and Little Red Ridinghood step out of their stories to enter the grown-up world of the woods: a place of danger, self-deception and self-discovery, peopled by a woeful Witch, a wicked, hungry Wolf and a couple of handsome Prince Charmings forever on the look-out for romantic love and adultery.
But the more significant central characters are the Baker and his loving if still barren wife, superbly played by Mark Hadfield and Jenna Russell, sent by the Witch on a quest for magical trophies in exchange for which she will grant them a baby all their own.
Sheader's version has removed that intrusive adult narrator and replaced him with a schoolboy who runs into the woods to escape from a family spat, his head full of phantom fairytales as he searches for 'they all lived happily ever after' endings, with his plaintive invocation of "I wish...."
By the end of the first act, all the criss-crossing storylines seem to have resolved the problems. But the second half becomes a dark, disturbing melodrama, strictly for adult cynics, with a crop of sudden deaths, plenty of blood to spill and no lasting happiness in sight as the boy again cries "I wish..." while his dad comes to take him home.
But of course the show is part of the Sondheim 80th birthday celebration and his music and lyrics are the main course on the evening's menu, here performed and sung with none of the usual compromises between acting and vocal skills. Indeed the great treat for Sondheim groupies is Sheader's ensemble of fine singers with the ability to deliver his witty words, not just pitch perfect but with astonishing clarity of delivery and meaning.
It would be pointless to list all the delights that especially pleased me, but the highest praise for female voice must go to Hannah Waddingham's Witch whose Our Little World is a masterclass in live Sondheim performance.
Equal achievement comes from Michael Xavier doubling as the hip-swivelling Wolf and as Cinderella's Prince, sharing a knockout version and reprise of Agony - the agony of pursuing that elusive female - shared with Simon Thomas as Rapunzel's Prince.
Helen Dallimore's Cinderella also has that other most memorable number, No One Is Alone, which had me singing her refrain all the way home.
Finally the comedy standouts include Beverly Rudd as Red Ridinghood with a beautifully pointed I Know Things Now, and Jenna Russell in a happy post-coital moment as the Baker's wife after enjoying a quickie in the bushes with Xavier's sly but seductive Prince.
But I should perhaps mention that it can seem a long evening with a running time of a full three hours, starting at 8.00pm. As a result one could also notice several audience members rushing to the exit to catch their trains home, well before the end of the show. A pity.
Reviewer: John Thaxter