Lady Be Good
George & Ira Gershwin, book by Guy Bolton and Fred Thompson
Open Air Theatre, Regent's Park
(2007)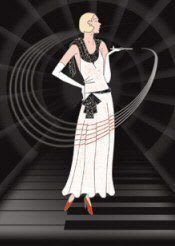 With two enchanting evenings of song, dance and romance, Regent's Park is offering London theatregoers the best possible reason not to bother with a trip to the dubious delights of the Edinburgh Festival.
Last season's big hit The Boy Friend returns for 25 blissful performances from the end of August, launch pad for a probable UK tour of this lovely show. It again stars the incomparable actor-director Ian Talbot as Lord Brockhurst discovering that 'It's Never Too Late to Fall in Love', and Rachel Jerram repeating her heart-touching performance as sweet Polly Browne, complete with the hauntingly romantic ballad 'I Could Be Happy With You.'
Meanwhile performances have already begun of the youthful Gershwin brothers' first major collaboration, Lady Be Good, last seen in the Park in 1992, then as now with an acclaimed staging by Talbot and his regular designer Paul Farnsworth — plus choreography by Bill Deamer, who also devised those high-kicking chorus numbers for Boyfriend.
I cannot now recall who it was who declared that 'Musical comedy' are the two most beautiful words in the English language.
What I do know for sure is that this 'prentice Gershwin show, which starred brother and sister Fred and Adele Astaire on Broadway in 1924 (and London two years later), was the very first that could properly be called 'a modern musical comedy': a light-hearted combination of songs delivered by hoofers and comics who could also (more or less) sing; together with corny dialogue and a totally improbable plotline that, despite the heartbreaks, eventually results in love, kisses and marriage proposals all round.
I must be honest. Lady Be Good has only two (arguably three) Gershwin classics including the title song, 'Oh, Lady Be Good', sung by a crooked lawyer to a sweet, innocent girl he wants to implicate in an inheritance scam; and 'Fascinating Rhythm,' plugged throughout the evening as solos, duets, quartets and of course, production numbers, with the whole company on stage, swinging and tapping for all their worth.
My own favourite is the unfamiliar but deliciously memorable 'So Am I', a duet which unites both Dick (Chris Ellis-Stanton) with Rachel Jerram's Shirley, and Dick's sister Susie (Kate Nelson) with a romantic hobo in the shape of Norman Bowman's slightly louche Jack Robinson — who of course just happens to be a young New York millionaire on the loose.
The story defies description or common-sense. Suffice it to say that as well as the four romantic leads already mentioned, there are outstanding comedy performances from Paul Grunert as lawyer Watty Watkins, Giles Taylor as a Woosterish Bertie Bassett, and a dazzling turn by tall, slender Hattie Ladbury playing New York socialite and innocent party-giver Jo Vanderwater, who eventually finds love and romance in an unexpected quarter.
Farnsworth's setting transforms the leafy surroundings of the Park into a sophisticated Manhattan niterie with the keys of a black and white grand piano providing a vertiginous stairway, leading to a stack of drums, just behind which Catherine Jayes leads her on-stage band from the keyboard.
As always at the Open Air, costumes, footwear and coiffeures are also an outstanding feature of the show, with dazzling gowns for the girls, nifty tuxedos for the boys. Sightlines are perfect from any part of the house, while discreet personal mikes ensure that every voice is clearly heard, even at the back of the steeply raked auditorium.
Standout routines include a Charleston marathon for a young and limber company whose smiles display dazzling white teeth, plus rhumbas, point numbers, bluesy song and dance to the Astaire favourite 'The Half of It Dearie, Blues', the sweet sentiment of 'Little Jazz Bird' and above all the original Finales to both Acts 1 and 2 that (rarely, but here celebrated) show us exactly how the Broadway premiere would have sent audiences out glowing with joy to their interval drinks and smokes, then for a Yellow Taxi ride home.
I find it sad to mention that these two musical comedy evenings also represent Talbot's swan song at the Open Air. I hope he will return often, in a guest role, meantime I feel sure that all British Theatre Guide readers who have enjoyed evenings in the Park, will join me in wishing Ian a fruitful and busy period of freelance work as actor and director.
Reviewer: John Thaxter