Romeo and Juliet
William Shakespeare
Open Air Theatre, Regent's Park
(2008)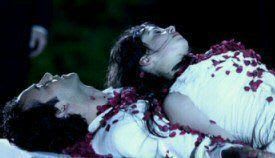 The elements were kind last night, offering a heady, scented evening that can only follow a clear, hot June day. Romeo and Juliet is all about heat: long standing blood feuds and instant passions in a play so 'known' that to stage it afresh is a challenge.
Director Timothy Sheader (formerly of the RSC) presents a new reading that retains the old in a sparse, scene-free stage in keeping with Elizabethan stagecraft, its only backdrop the crumbling walls of a house, split by a fissure, implying division and ancient grudge.
The cast emerges in a burst of colour - pinks, greens, reds, purples - as if flowers from the park's gardens are seeking employment as extras. In an early twist to conformity, the synopsis (the preserve of the Chorus) is shared amongst characters line by line, nicely suggesting the repercussions of unrest on a whole community.
Modern dress, circa 1950's, provides a West Side Story feel, with the production combining elements of ballet and masquerade, operatic shifts and salsa beats: a world of Capulet boys in black and Montague boys in colour, where guns replace knives and hangovers are assuaged by imbibing fizzy restoratives.
The comic element is stretched at times, particularly with Friars Lawrence (Richard O'Callaghan) and John (Harry Myers), who chain smoke and drink tipples from a yellow tartan thermos, losing the dignity and gravity of Lawrence's pivotal position in the play, in my view. Comedy does work brilliantly in Claire Benedict's Nurse, resembling a shrewish, chatty 'Billie Holiday', and to whom Mercutio's (Oscar Pearce) cheeky comparison to a sail describes the patterns on her designer dress, rather than allusion to her size.
Somewhat absent is the 'mad-dog', bite-if-you-look-at-me, hot-bloodedness of a scorching Italy, with Tim Woodward's wife beating, bullish Capulet displaying the rash heat that Shakespeare intended for his younger characters. Only after the wedding scene (accompanied by striking ensemble singing, led by Annalisa Rossi) does darkness descend, assisted by a real-time cloak of night over the auditorium.
Textual changes may concern Shakespearean purists: the addition of 'Bianca' (Rossi, again) as a female presence, egging on the warring factions, diminished the simple testosterone-filled meaning behind the scene - young men will fight because they can; Benvolio (Leon Williams) replaces Balthazar as Romeo's harbinger of doom from Verona; and the final tomb scene is radically reworked.
Changes can be positive, as when two scenes are played as interpolations, with the woes of banishment debated respectively between Romeo and Friar Lawrence, and Juliet and the Nurse: four characters on stage, each couple oblivious of the other.
Nicholas Shaw's electric, hairy-chested Romeo shares a potent sexual chemistry with Laura Donnelly's beautifully judged Juliet, where burgeoning maturity sits well with latent girlishness (rendering redundant the teddy bear, assuring us of Juliet's youth). The lovers' ballet-inspired scaffold love scene, tenderly choreographed with a white sheet as a swirling prop, is a joy to behold.
The audience loved it, with cast returning for three stage calls. From pre-show chilled wine and Eton mess to an after-show fairy-lighted Regent's Park (and the tones of squawking geese assisting the actors in-between) this is a worthwhile summer experience: a play set amongst the elements, if not quite Shakespeare in his element.
Reviewer: Anita-Marguerite Butler