The Taming of the Shrew
William Shakespeare, adapted and directed by Rachel Kavanaugh
Open Air Theatre, Regent's Park
(2006)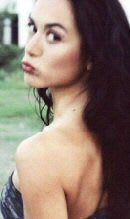 Rachel Kavanaugh has cut the Christopher Sly framing story because she believes it becomes a way of saying this is only a play and that the central love affair between Petruchio and Katherina doesn't really matter.
This not only allows us to concentrate on the making of a match between the most unlikely bride and groom, set in a small Italian town in the late 1930s. It also happily reduces the running time to a manageable two hours 30 minutes, perfect for a summer evening of romantic entertainment in the park.
For the last 66 years revivals of the Shrew have echoed in one's mind to the musical influences of Kiss Me Kate. Especially so here, as when John Hodgkinson's Petruchio dwells for a moment over the lyrical possibilities of:
I've come to wive it wealthily in Padua.
If wealthily then happily in Padua.
as he spells out his true motives for pursuing matrimony. And later, when Shakespeare gives him a legitimate chance to sing, he actually sets his 'Where is the life that late I led?'to the Cole Porter melody and phrasing.
Even better, this Open Air veteran, a towering macho presence, totally dominates the stage with his superb articulation, winging his words across the greensward with marvellous clarity and resonance.
He may have the trappings of a bully, and other characters dodge his blows and bruising physicality. But for once this is a Petruchio who seems genuinely in love with Sirine Saba's initially truculent Kate. Their combative wooing scene — too often played with slapstick gusto rather than subtlety — is here a model of pacing, humour, and emotional variety, thus motivating all the subsequent marital passages of domestic anger and rapprochement.
Kavanaugh's masterstroke has been to make Kate's "I am ashamed that women are so simple..." speech neither submissive nor heavily ironic as is more customary nowadays. Instead Miss Saba, transformed from the dumpy crosspatch Shrew of the first act, into a figure of radiant beauty and warmth, turns this tricky speech into a celebration of romantic love, fidelity and marital harmony, delivered with dazzling aplomb.
The Bianca sub-plot, with Sheridan Smith as Kate's gorgeous blonde sister, involves half a dozen chaps, mostly young and almost indistinguishable — all their names confusingly ending in 'O'.
But it is carried out with maximum energy, efficiency and wit, not least in the way that scenes, costumes, personalities and disguises are swiftly changed. And it's good to see again RSC stalwart Timothy Kightley as Baptista and boulevard comedy actor Michael Medwin as Vincentio.
But a special word of praise is due to doyen designer Kit Surrey, whose arrangement of a Paduan piazza sets three houses at an open L-shaped angle, with the satisfying result of making it seem that every member of the audience has the benefit of a seat central to the action.
This brilliant piece of theatrical magic is atmospherically lit, both within and without, by Jason Taylor, plus some splendid pyrotechnic effects that help bring the evening to a coruscating close.
Reviewer: John Thaxter