The Tempest Re-imagined for everyone aged six and over
William Shakespeare (with a Prologue devised by Sarah Gordon in association with the company)
Open Air Theatre, Regent's Park
(2009)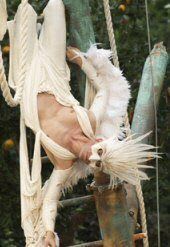 As the title line suggests, this version of The Tempest, directed by Liam Steel, comes packaged as a Shakespeare show for young audiences. In fact it also becomes a sort of carefully pruned play-within-a-play.
Sarah Gordon's Prologue is a twenty-minute prequel to the main event, a costume swapping, comic outline of the former power struggles in Milan and Naples, together with Prospero's storm-tossed arrival on his enchanted Island to take over from Sycorax and to disinherit her son Caliban.
The excuse given for this retro tale is that the various magical sprites of Shakespeare's play, including Ariel, are getting together to create a performance in celebration of their release from Prospero's bondage, and that what we are about to see will be it!
One possible benefit is that we get to link the various characters to the actors playing them, which may save confusion later on — provided we concentrate hard. But this is mainly a fast flowing, fairly hefty history lesson, providing early opportunities for the kids to join in with sound effects and plenty of arm waving.
Does it help? Yes. But the more important question is, does the play itself come over to young audiences? To which the agreeable answer is again, yes. Joseph Mydell is a mild-mannered, enabling sort of Prospero who downplays the inbuilt harshness of his role, while speaking the verse beautifully and with easy to follow meaning but as the central character with a magic staff he is often upstaged by the sprites, villains, clowns and even his daughter Miranda, played with impressive attack by Akiya Henry who also doubles as the pretender Antonio.
Strongly focused, the most essentially Shakespearean performances come from John O'Mahoney doubling as the tiddly Stephano, with a Michael Crawford Some Mothers Do 'Ave 'Em accent, and as a compassionate Gonzalo in a Victorian naval officers rig.
The most surprising doubling comes from Michael Camp as a bespectacled, sweetly romantic suitor to Miranda and a truly terrifying Caliban in an alligator suit who gives a thrilling edge to his 'the isle is full of noises' speech.
There is also excellent work by Tom Silburn as a cocky Trinculo and the would-be king killer Sebastian, whose murderous blade is stopped by Prospero's timely intervention.
With an original score by Olly Fox, William Oxborrow as the King of Naples is also the chief musician with a superb rendering of several atmospheric violin riffs at key moments in the play.
But the most active figure is the circus-trained Matt Costain as a bleach-blonde, white-clad Ariel in some truly impressive rope work, suspended dangerously from the ships' rigging that designer Philip Witcomb has supplied to change his basic season setting of curving walkways into a maritime criss-cross of masts, sheets, rope ladders and tattered sails.
One must also pay tribute to this acting company, seven courageous actors who seem happy to perform in a perpetual state of wetness, especially around their trouser legs, thanks to a watery central playing area that replaces the podium for Much Ado — and without once slithering into chaos.
But with each dowsing one feels for the Head of Costume, Angie Burns, and the wardrobe mistress Faith Barber who will be kept busy setting things back to rights for the next performance!
Reviewer: John Thaxter