Arms and the Cow
Kurt Weill, libretto by Jeremy Sams in collaboration with David Pountney
Opera North
Theatre Royal, Newcastle, and touring
(2006)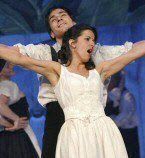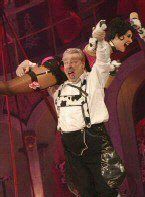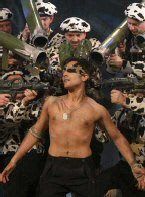 Under the title A Kingdom for a Cow, a variation of this operetta (originally titled Der Kuhhandel - Cattle Trading) premiered in London at the Savoy Theatre in June, 1935, but, in spite of good reviews, it came off in just two weeks. It's hardly surprising when you consider that one of the great hits of London Theatre in 1935 was Ivor Novello's Glamorous Night (at the Theatre Royal Drury Lane), followed by Careless Rapture a year later. For audiences of the time operetta was Novello, Lehár, Romberg, Gilbert and Sullivan, Offenbach - a satirical piece about political corruption and arms trading, paralleling what was going on in Germany at the time, was never likely to appeal.
After this failure, Weill abandoned the piece and it was not until 1978 that the former Weill repetiteur Lys Symonette recreated the original. It was performed in a concert version in Düsseldorf in 1990 and in a fully staged version at the Deutsch-Sorbisches Volkstheater, Bautzen, in 1994. In 2000 it received its US premiere at the Juilliard School in New York, with a new version of the libretto by Jeremy Sams. This Opera North production is the UK premiere (30th March, 2006, at the Bradford Alhambra). Sams/Pountney's version brings the piece up to date with mention of WMDs and other Iraq references.
Set on a fictional island shared by two countries, Santa Maria and Ucqua, it tells the story of how the attempts of two lovers, Juan Santos and Juanita Sanchez, to marry are frustrated by the impact of the devious machinations of American arms trader Jones which upset Santa Maria's economic stability and lead to the take-over of government by The General (Donald Maxwell). Thus two stories run in parallel, showing how the actions of the government affect the ordinary people.
The parallels with Nazi Germany, from which Weill had fled just two years earlier, are obvious, although Weill sticks to the operetta convention of using a (in this case ironic) Ruritanian setting. It is certainly ironic in the second half which opens with a scene in a brothel in Santa Maria's capital city which has all the decadence of the Kit Kat Club.
As we have come to expect from the company, Opera North's production is cleverly staged and well performed. Mary Plazas is a beguiling and determined Juanita and Leonardo Capalbo (himself a graduate of the Julliard) conveys Juan's essential innocence, but it is an innocence which, as the ending shows, can be pushed too far. Both sing superbly!
As the Goebbels-like Ximines, who manages to be advisor to both the ousted President Mendez and his successor General Conchas, Robert Burt uses his experience in both opera and theatre (he was a member of Trevor Nunn's National Theatre Ensemble) to great effect. he creates a character which, for all its machinations, betrayals and power-seeking, is essentially likeable - not an easy thing to do!
There is much to be enjoyed here, but more in the second act than the first, which is rather over-long. The opening chorus number is great, witty both in the writing and the performance, and the romantic Juan/Juanita idyll which follows has enough of an edge (as one would expect of Weill) to avoid slipping into the sentimentality to which much operetta is prone. This is exposition but it is handled with such a delicate and witty touch that it draws us in immediately. However once we enter the political arena, Weill tends to overegg the pudding and our attention begins to waver somewhat. No reflection on the performers here, particularly Jeffrey Lawton's delightfully bumbling Presdent Mendez: it is the writing which is overextended.
The second act is tighter and more varied as the plot takes off and the two strands begin to interweave, finally reaching a resolution which is both satisfying and very funny. It has to be said that the music, although enjoyable, is not vintage Weill and does not compare to The Threepenny Opera or Mahagonny, or even some of the later Broadway shows, such as One Touch of Venus. Still, Opera North is to be congratulated on bringing us a witty and mainly enjoyable unknown piece of the Weill canon.
"Arms and the Cow" plays at the New Theatre, Hull, on 24th May, the Sheffield Lyceum on 3rd June, and His Majesty's, Aberdeen, on 17th June.
Reviewer: Peter Lathan