La Bohème
Music by Giacomo Puccini, text by Giusppe Giacosa and Luigi Illica
Opera North
Theatre Royal, Newcastle, and touring
(2010)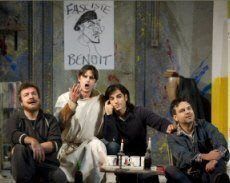 Nobody tugs at the heartstrings like Puccini and none of his operas ratchets up the audience's emotions like La Bohème. It is no wonder it is one of the most popular operas in the repertoire for it has everything: young love, jealousy, young death, the death of youth - and a tragic inevitability.
Phyllida Lloyd's 1993 production, here brought back to life by revival director Peter Relton, moves the setting from the 1830s of the original to the late 1950s/early 1960s but retains the Parisian setting, and it works well. All too often, updating operas can throw up all kinds of incongruities but not here: the inhabitants of the 19th century Parisian Bohemia fit equally well into the Left Bank world of their 20th century equivalents, as do their devotion to art, their poverty and their unconventional love lives. Plus ça change...
The updating gives opportunities for some amusing but telling touches, as when, in act 4, Marcello reveals two rows of silkscreen prints of Musetta hanging above the artists' flat - very Andy Warhol and a minor but effective illustration of his obsession with her. I liked, too, the Jackson Pollock moment in the first act.
I have felt, in some productions, that the fact that the three greatest musical moments of the opera - "Che gelida manina", "Mi chiamano Mimì" and "O soave fanciulla" - are over by the end of the first act is something of a weakness, but not here. The direction and Richard Farnes' sympathetic and restrained control of the orchestra clearly bring out the echoes of their themes and motifs in the final act, giving them a resonance and emotional depth which is massively moving - and, frankly, does not happen often enough.
The production is well served by a fine ensemble cast - the focus on Rodolfo and Mimì is well counterbalanced by strong performances from Marcello and Musetta, beautifully sung by Marcin Bronikowski and Sarah Fox, with strong support from the other two Bohemians, Colline (Frédéric Bourreau) and Schaunard (Quirijn de Lang).
But audiences inevitably give most of their attention to Rodolfo and Mimì, and Bülent Bezdüz and Anne Sophie Duprels shine, both vocally and as actors. They are totally believable.
I have lost count of the number of Bohèmes I have seen but this ranks as the best and most accessible. The production deserves frequent revival and its cast are exemplary.
Reviewer: Peter Lathan