La Bohème
Music by Giacomo Puccini, text by Giusppe Giacosa and Luigi Illica
Opera North
Theatre Royal, Newcastle, and touring
(2010)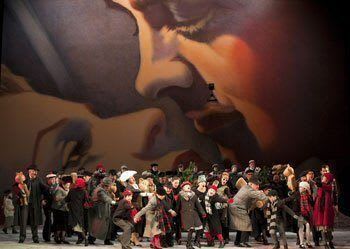 When I reviewed this production back in March, I wrote, "I have lost count of the number of Bohèmes I have seen but this ranks as the best and most accessible." Now it has returned to Newcastle just a few months later but with a slightly different cast and it is, I think, even better. Whilst Bülent Bezdüz was an excellent Rodolfo, Aldo di Toro, although older than Bezdüz who looked absolutely right, is vocally outstanding. His powerful and expressive voice positively soars and wrings every last drop of emotion from the part.
We have a new Mimì too, Sarah Fox who played Musetta last time round. Not quite as waif-like as Anne Sophie Duprels, she still captures the vulnerability of the character and sings beautifully. She's a fine actress, too.
Such a pity, then, that, during the last part of "O soave fanciulla" when a front cloth flies in to cover the change to the Latin Quarter of Act II, the scene change was noisy enough to distract the audience's attention from the singing. That is unforgivable and didn't happen in March. It was distracting enough in the dress circle: what it must have felt like to the singers on stage I shudder to think.
A blemish, certainly, but one which the cast overcame and minor in the context of the whole evening.
Marcin Bronikowski returns as Marcello and his performance, already impressive, seems to have matured. His is a brooding presence and he clearly shows the pain of his on/off, hot/cold relationship with Musetta and the depths of his concern for Rodolfo and Mimì.
Jeni Bern takes over as Musetta and Tim Mirfin and Thorbjørn Gulbrandsøy as Colline and Schaunard respectively. All slot into the production flawlessly.
I mentioned the set change between acts I and II but it is worth drawing attention to Anthony Ward's design for the second act which effortlessly (except, perhaps, for the efforts of the chorus members who push the huge truck around!) and cleverly morphs from outside to inside to, at the same time, inside and outside of the Café Momus. And back again. Indeed, Ward's design as a whole is very impressive, capturing exactly 50s Paris, the streets, bars and nightclubs and the run-down students' flat, helped by Rick Fisher's lighting, redesigned for the revival by Colin Smith.
The production is seventeen years old but Opera North gives it a freshness and impact which does Puccini's classic melodrama proud.
Reviewer: Peter Lathan