Madama Butterfly
Giacomo Puccini, libretto by Giuseppe Giacosa and Luigi Illica
Opera North
Theatre Royal, Newcastle, and touring
(2008)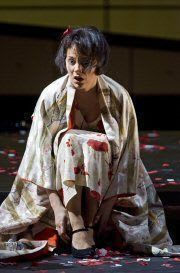 One of the accusations levelled against Madama Butterfly when it premiered disastrously at La Scala in 1904 was that it was too "sentimental". Modern critics have condemned its "colonialist" view of Asia and Asian women, whilst American critics have thought it anti-American. As always there is a grain of truth in all these criticisms but they certainly do not tell the full story.
Of course it is "colonialist", because it is of its time and, yes, it could be seen to be anti-American in that Pinkerton is hardly an attractive character with his exploitative attitude and his denigration of Butterfly's little tresaures, but by the same token do we regard Macbeth as anti-Scottish? Puccini and his collaborators were telling a story which appealed to them and that's what drama of any kind, whether spoken or sung, is all about. Its disastrous first performance had nothing to do with these modern criticisms but was because of its operatic qualities, as perceived at the time. For example, audiences wanted three, not two, acts, whereas now, in Europe at any rate, its two-act version is preferred.
It is melodramatic - innocent young (she is fifteen when she marries Pinkerton) heroine driven to an untimely death by an ultimately cowardly exploitative villain - but, again, in that it is of its time. And, let us be honest, opera, like its modern decendant the musical, does tend to the melodramatic.
But what of Opera North's production, directed by Tim Albery? It has, in Anne Sophie Duprels, a wonderful Cio-Cio-San, utterly believable as the innocent who cannot see the truth of her situation, even though it is obvious to all around her, including her servant and confidante Suzuki (another fine performance, this, from Ann Taylor). Rafael Rojas makes Pinkerton as obnoxious as he really is and his final horror at what has happened frankly does nothing to redeem him, which is as it should be.
As the American Consul, Sharpless, Peter Savidge counterbalances the bull-like Pinkerton beautifully, sensitive and understanding, doing his best to make Pinkerton recognise that what he sees as a commercial transaction is much more than that to the young girl.
The set by Hildegard Bechtler is traditional Japanese with its sliding doors and Noh-like atmosphere and Peter Mumford lights it sensitively with one really outstanding effect: the very (very!) slow cross-fade that accompanies the Interlude in Act II as Butterfly waits through the night for Pinkerton to arrive was subtle and incredibly effective. To be honest, that Interlude (usually the beginning of Act III in the three-act version) can be a bit of a drag, but here the combination of Mumford's lighting and Duprels' tension grip.
Director Tim Albery has decided to point up the sexual exploitation ingredient of the piece by surrounding it was an addition of his own: as the audience enter, a group of what one must call sex workers in short skirts and low cut tops chatter and put on their make-up in front of a couple of mirrors while a geisha in full costume lays ut a bed and then reads a magazine. At the end, as Butterfly's body lies on the stage, the dressing room backdrop flies in and one of the girls from the opening, clutching a cip of coffee, walks in, looks down at her, and moves off. Whilst I can see why he did this, I felt that this final addition actually diminished the effectiveness of the ending. He'd made his point at the outset and, with the dessing of Goro, the marriage broker of the libretto but here very much a pimp, in "sharp" Western gear (the actual opera seems, in this production, to be set somewhere in the fifties), he reinforced it so the final somewhat anti-climatic moment was not needed.
Otherwise, though, Albery has produced, as one would expect of him, a very fine reading of the opera which was without the occasional longueurs that we sometimes find in the first act.
Reviewer: Peter Lathan