I Capuleti e I Montecchi
Vincenzo Bellini, libretto by Felice Romani
Opera North
Theatre Royal, Newcastle, and touring
(2008)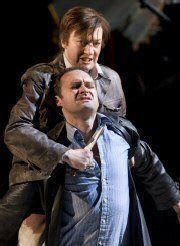 I have to confess that I am far from being an expert on - or even terribly knowledgeable about - Bellini. I know parts of Norma, I Puritani and La Somnambula (how could anyone who has ever listened to Joan Sutherland not?) and also of his reputation of being the master of bel canto, but of I Capuleti e I Montecchi I knew nothing except I had the vague idea that it is based on Romeo and Juliet.
But of course it isn't. Librettist Felice Romani did not use Shakespeare as a source but rather went to a number of Italian sources which are very different. Indeed, for Opera North to count it as part of their cycle of Shakespearean operas - Verdi's Falstaff and Macbeth, Britten's Dream and Gounod's Roméo et Juliette - is a bit of a stretch. There are major differences - the warfare between the two groups (rather than families) and the love between Romeo and Giullietta (and their deaths) are really all that are common to both - and it was obvious from the start that, to get the best out of it, all idea of Shakespeare's play needs to be put right out of mind.
Musically the piece is in Bellini's elegiac style - very melodic, if a little dynamically limited in the first act - but director Orpha Phelan and designer Leslie Travers, with excellent support from lighting designer Chris Davey, bring a grittiness to the piece which reflects the story, if not the music. Not that this is a case of the direction fighting against the music, for they complement each other, one moderating the other.
It is set amidst what seems like a civil war in an unnamed and non-specific modern period. The two sides are well distinguished, with the Capuleti in what are essentially civvies, armed with pistols and carbines (Lee Enfield 303s?) while the Montecchi, armed with M16s complete with laser sights, look like special forces dressed for a night attack, balaclavas and all.
The set is almost a character in itself: dark and brooding, peppered with bullet holes, with a scratched, translucent ceiling, behind which it is possible to make out the figure of an armed guard, being gradually lowered into position during the orchestral introduction to the second scene of act one, Giulietta's room. By act two the set has turned into an almost Dali-esque remnant of itself and, when the Montecchi army bursts in, guns at the ready, the black back wall is covered by pinpricks of red light, echoing the laser sights of the guns carried by the invaders on stage.
The only relief from the unbroken dark colours are the costumes of Romeo and Giulietta. She, appropriately, is in a simple white dress and he (this must surely be the last breeches role in opera, except for Prince Orlofsky in Fledermaus?) in a white suit (later, as a disguise, covered with a brown leather jacket).
The performances are excellent. Marie Arnet is particulary affecting as Giulietta and Sarah Connolly is by turns powerful and tender as Romeo. Edgaras Montvidas makes a strong Tebaldo (Tybalt): good voice and great stage presence. Henry Waddington's Lorenzo (a doctor, not a friar) and Nikolai Didenko's Capellio complete the first class quintet of principals.
As always, one must mention the Opera North Chorus who not only, as one would expect, sing well but also act their hearts out. Each is an individual character and yet they blend together so effectively.
This is the only Opera North production I can get to see this season - Gail-Nina Anderson is covering the others for the BTG - and I came out of theatre delighted that it was this one!
Reviewer: Peter Lathan