Don Carlos
Giuseppe Verdi
Opera North
Theatre Royal, Newcastle, and touring
(2009)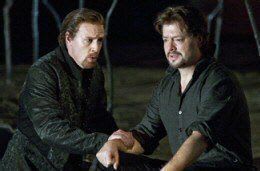 Don Carlos may not be Verdi's greatest opera but boy, does it pack a punch! And especially so in Opera North's production, directed by Tim Albery, which keeps the audience pinned to their seats for three and a half hours.
Yes, it's melodramatic and the deus ex machina ending is a bit weak but nothing can take away the raw power of the music, reinforced here by stunning performances from an impeccable cast and aided by Hildegard Bechtler's brooding sets and Charles Edwards' atmospheric lighting. The auto da fé scene which preceeds the interval is a superb example of why Verdi is the master of grand opera.
There are many moments to savour, but for me the highlight, both in terms of performance and the political/personal theme, was the confrontation between Alastair Miles' King Philip and Clive Bayley's Grand Inquisitor. The clash of personalities and the triumph of religious over temporal power is very powerful both dramatically and musically and these two singers gave it their all.
But this is just one moment among many. Director Tim Albery gives us a very straight rendering of the piece, concentrating on drawing out its full emotional power from his cast and every single one one, including the always excellent Opera North Chorus, rises to the occasion.
Julian Gavin as Don Carlos perfectly expresses the character's anguish, both for his doomed love and for the plight of the people of Flanders, the former mirrored powerfully by Janice Watson's Elizabeth and the latter by William Dazeley's Rodrigo. Their power is matched by the Eboli of Jane Dutton, whose sudden recognition of the disaster she has created is another pivotal and emotionally devastating moment.
The orchestra, under Richard Farnes, racks up the intensity to almost unbearable levels.
My only regret is that, to catch the train home, I had to leave before the curtain calls had really started (as, in fact, did many others), so perhaps in future the company and the theatre might consider starting a long performance at 7.00 rather than 7.15, just so all of us can express our appreciation properly!
Reviewer: Peter Lathan