The Elixir of Love
Gaetano Donizetti; text by Felice Romani, based on Le Philtre by Eugène Scribe; English translation by David Parry
Opera North
Theatre Royal, Newcastle, and touring
(2007)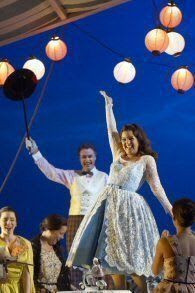 What can one say about The Elixir of Love? It's a lighthearted, fun bit of fluff, with a basically rather silly story involving some engaging if fairly stereoptypical characters. Written at the end of what we might call the height of bel canto and just a few years before Verdi began his great sea-change in opera, it was possibly beginning to sound a little old-fashioned when it was written (in just a fortnight!) in 1832.
But so what? It is fun, light and frothy, and provides very enjoyable, undemanding entertainment. And Opera North does it full justice. Set in 1950s Italy, the costumes and set are bright - there was an almost audible "Oo!" from the audience as the curtain went up - and, indeed, there is a fine sense of period, not just from set and costume designer Robert Innes Hopkins, but from the inclusion of little touches like Belcore (Riccardo Simonetti) and the other sailors (for Belcone, in this version, is a captain in the Navy, not a soldier) arriving on Vespas (and nothing says 50s Italy more than the Vespa!), and from the performances of the entire cast.
Swedish soprano Anna Ryberg gives Adina a bubbly flirtatiousness but also convinces in the much more downbeat scene which gives rise to the opera's best-known (and best!) aria, Una furtiva lagrima. She is ably supported by fellow Swede Susanna Andersson as Giannetta, who uses face and body language very expressively.
Andrew Kennedy's Nemorino (he who gets to sing that aria - and whose performance of it drew cries of "Bravo!" from the audience), who had, for me at any rate, more than a few overtones of René Artois, didn't overdo the pathos (something which must be very tempting) but still elicited tremendous sympathy from the audience.
One almost felt that Simonetti's Belcone should have had a big moustache to twirl, he gave such a nice villain of melodrama performance. He was the epitome of 1950s cool, with the slicked-back hair, which he constantly combed, and an almost Fonz-like strut.
Peter Savidge's snake-oil salesman Dulcamara, tall and charismatic, has, in this production, an entrance to die for - he and his boy (a good performance by young Aaron Eastwood) descend from the flies in a hot-air balloon - and he makes the most of it.
Indeed, it is impossible to fault the performances - well, when a soloist is singing upstage the audience has to strain somewhat to hear but this has, I think, more to do with the Theatre Royal's acoustic than the performers of the orchestra - and that, of course, includes the Opera North Chorus who always act their hearts out as well as singing superbly.
Director Daniel Slater has a good eye for detail - I really loved the irony of Adina reading the story of Tristan and Isolde from a book clearly entitled Tales from Wagner!
All in all, a really good evening's entertainment!
Reviewer: Peter Lathan