Katya Kabanova
Leoš Janácek
Opera North
Theatre Royal, Newcastle, and touring
(2007)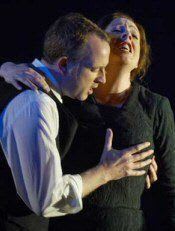 One and three quarter hours long and played without an interval, Tim Albery's production of Katya Kabanova for Opera North relentlessly piles on the pressure. Dark greens characterise Hildegard Bechtler's sets and stark black with just the odd touch of white her costumes, and deep shadows Peter Mumford's lighting. The continuous surge of the orchestra reflects the surging of the River Volga, both beautiful and tragic, and essentially a central character in the piece.
There is a sense of almost tragic inevitability in the unfolding of the story of Katya Kabanova, married into a household dominated entirely by a harpy of a mother-in-law, alienated from her husband by his mother's manipulations, falling in love with another man and, eventually, committing suicide in the waters of the Volga, a song of praise for whose beauty is the first thing we hear after the overture.
All these elements - production, words, music, plot - combine to take the audience's emotions by the scruff of the neck and immerse us in the unfolding tragedy, just as, eventually, Katya is immersed in the river.
It's a powerful production with all the cast giving excellent performances both as singers and actors. Sally Burgess is chilling as the bullying mother Kabanicha, just staying on the right side of parody, whilst John Graham Hall, as her dominated son Tichon, is suitably cowed and too scared to stand up for himself or his wife. Giselle Allen's Katya is vulnerable and passionate, convincing both in her desperation to have the support of her husband when tempted by Peter Wedd's Boris Grigoryevich and in her surrender to him. She catches a soul torn between love, duty and, eventually, shame beautifully.
The sub-plot of the affair between Varvara and Kudryash brings what little light and hope there is in this whole sorry story and Wendy Dawn Thompson and Ashley Catling handle it sensitively and with eal joy in each other.
J D Atkinson reviewed this production at the Grand Theatre, Leeds.
Reviewer: Peter Lathan