La Voix Humaine
Francis Poulenc, libretto by Jean Cocteau, English translation by Richard Stokes
Opera North
Theatre Royal, Newcastle, and touring
(2006)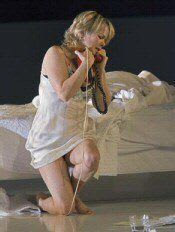 In 2005 Deborah Warner directed Shakespeare's Julius Caesar at the Barbican with a cast of 130, including Simon Russell Beale, Fiona Shaw, Anton Lesser and Ralph Fiennes: now, in complete contrast , she directs one woman, Joan Rodgers, in a tragédie lyrique in one 45 minute act in which the woman (known only as elle - she) talks on the phone to her former lover before slashing her wrists - on the face of it, a move from historical epic to domestic melodrama, and yet there is more to this piece than than the latter description would suggest.
For a start, there's the set: the full stage is used, a wide-open space, mainly white with just a touch of silver in the bathroom fittings and the bcal of the woman's underwear and her discarded clothing, broken by only one colour. the red of the telephone and the pionk envelope from which she takes, at the end, the razor. The floor is half composed of fluorecent tubes and the furniture suggests a combined bathroom and bedroom, lit in almost pitiless white light. Rather than a closed-in, perhaps claustrophobic and even dark setting which one might expect, the "domestic tragedy" is played out on a set which would suit an epic.
In this space elle makes her journey. The set and the emotions played out on it echo the contrast between the words and the music, in which the words attempt to be calm while the music expresses the passion beneath, the passion which she is trying to hide from the lover who has abandoned her and is about to marry someone else.
And yet it is more than a personal or domestic tragedy here: Cocteau himself says that, when he first saw Poulenc's version if his play, he felt that it had become "a very great tragedy" and it is true that the general is implied by the particular. Elle is not just a particular woman in a particular place in a particular situation.
The piece needs someone who can both sing and act to a very high standard and Joan Rodger is very definitely one such. She sustains the tension between the underlying passion and the desire - the need - to keep calm faultlessly throughout. It is, indeed, a very moving and, in retrospect, impressive performance.
The tour ends at Newcastle
J D Atkinson reviewed this production in Leeds
Reviewer: Peter Lathan