Les Noces and Dido and Aeneas
Igor Stavinsky and Henry Purcell
Opera North
Grand Theatre, Leeds
(2007)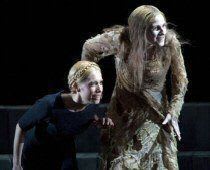 Q. What's the connection between Stravinsky's "choral ballet" Les Noces and Purcell's Dido and Aeneas, the first great English opera?
A. According to the programme "both are concerned with marriage in their different ways", a link that can best be described as tenuous. Purcell's bite-sized opera has had some strange bedfellows in its time but Les Noces has not, so far as I am aware, been one of them. It sounds like the musical equivalent of chalk and cheese but there is method in Opera North's madness - both productions are conducted by Nicholas Kok, directed and choreographed by Aletta Collins, designed by Giles Cadle and Gabrielle Dalton and lit by Bruno Poet. The two works may have nothing in common, but when unified by a single creative team the "odd couple" marriage of Stravinsky and Purcell is surprisingly successful.
The evening begins with Les Noces, Stravinsky's powerful evocation of a Russian peasant wedding. The orchestra and chorus of Opera North - plus four grand pianos - occupy so much of the Grand Theatre's stage that there is little room for the twelve dancers, and there is no obvious connection between the Russian text and Aletta Collins' choreography. Yet Stravinsky's pounding rhythms and the dancers' movements mesh perfectly, and the huge harvest moon that bathes the stage in a cold silvery light is enough to suggest a semi-pagan ritual.
Dido and Aeneas has the curious distinction of being written for and performed by the pupils of a girls' boarding school in 1689. The tragic story of Dido, Queen of Carthage, who falls in love with the Trojan prince Aeneas only to be abandoned when he leaves her to fulfil his imperial destiny by founding Rome, has fascinated writers and composers for centuries. Purcell's version of the legend is best known for Dido's lament "When I am laid in earth", exquisitely sung by Susan Bickley, but the opera is full of good things. Amy Freston gives a lovely performance as Dido's sister Belinda, Lucy Crowe shines as the nameless Woman and Clarissa Meek is a suitably malevolent Sorceress (she also makes an Erda-like entrance from beneath the stage). Adam Green even manages to breathe some life into Aeneas, not one of the most rewarding roles in opera. The dancers reappear and are used to great effect without being obtrusive.
It has to be said that neither of the productions is a feast for the eyes. Black, white and grey are the dominant colours in both sets and costumes, with the sole exception of Dido's blood-red dress. The moon that shed its light on Les Noces also looms over Carthage, but Lorna Heavey's projections transform it into something much more sinister - clouds scud across its surface and a total eclipse precedes the queen's suicide. However, what this daring double-bill lacks in visual appeal it more than makes up for in musical and dramatic power.
At the Grand Theatre, Leeds, on 11, 23 and 24 May, then touring to:
Theatre Royal, Nottingham - 8 June
Theatre Royal, Newcastle - 16 June
The Lowry, Salford Quays - 23 June
Lyceum Theatre, Sheffield - 30 June
Alhambra Theatre, Bradford - 7 July
Peter Lathan reviewed this production at the Theatre Royal, Newcastle
Reviewer: J. D. Atkinson