Macbeth
Music by Giuseppe Verdi, libretto by Francsco Maria Piave, after William Shakespeare
Opera North
Theatre Royal, Newcastle, and touring
(2008)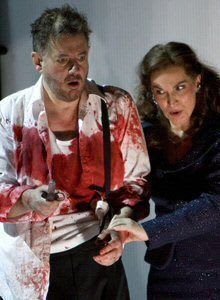 It really is hard to take off your Shakespeare glasses. I had to keep reminding myself: this is not Shakespeare, this is opera - and not just opera but Verdi.
There is no scope here for depth of characterisation, for the subtleties of the temptation and final surrender of Shakespeare's Macbeth. Rather we are swept along by the unfolding story, by the flood of blood which leads to the final death of Macbeth. It's a hugely powerful and moving piece, driven by Verdi's music. The moments of uncertainty - when, for example, Macbeth talks of the "horrid image" of the murder of Duncan, or when Lady Macbeth is reminded of her father -are gone and the temptation is swept away by the overwhelming presence of evil: not just three witches, but a whole chorus. This is not tragedy: it's melodrama.
Once we accept that, once we take it as something which is inspired by Shakespeare rather than being, as it were, an operatic version of Shakespeare's play, then we can appreciate the piece on its own terms.
Everything about director Tim Albery's version - his typical symbolism, the set (by Joahn Engels), the dark costumes (by Brigitte Reiffenstuel), the lighting (by Bruno Poet) - reinforces the inevitability, the power inherent in the music.
Powerful is the right word, too, to describe the performances. Robert Hayward's Macbeth, Antonia Cifrone's Lady Macbeth and Ernesto Morillo Hoyt's Banquo simply dominate the stage, and the chorus of witches, who scuttle around dressed like cleaning ladies, is omnipresent, prodding and pushing, holding the dagger in front of Macbeth, carrying the baby offspring of Banquo, simply watching intently as the story unfolds. Albery's idea of having them, at times, sit and knit (black wool, of course), like a chorus of Fates or perhaps the women who sat at the foot of Madame Guillotine, knitting up the future, was inspired.
Indeed, as always with Opera North, the chorus is a major character, woven into the warp and woof of the piece.
Images of blood, of birth and stillbirth, of fire, of trees and branches, and of yet more blood - the only spot of bright colour in the whole piece is the red of the blood - proliferate, reinforcing the atmosphere of evil which is all-pervasive.
There was no moment which wasn't quite right, no weak link. Antonia Cifrone's Lady Macbeth does not have the "harsh, strangled, grim voice" that Verdi wanted for the character, but she acts as if she is harsh and grim, and that is what counts. She is a perfect foil for Hayward's Macbeth and Peter Auty's clear, pure tenor as Macduff makes a wonderful contrast to the darker baritones of Hayward and Hoyt.
Yet another must-see!
Reviewer: Peter Lathan