Of Thee I Sing
Music and Lyrics by George Gershwin and Ira Gershwin. Book by George S Kaufman and Morrie Ryskind
Opera North
Theatre Royal, Newcastle, and touring
(2008)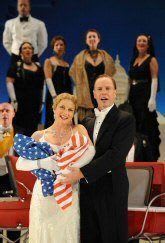 Any opera production that parades most of its female chorus members in swimwear and includes a recipe for corn muffins in its programme is clearly not pushing the button for high drama or the transcendent effects of musical sublimity. Indeed, by the interval one of my colleagues had definitely been transformed into "Disgusted of Newcastle" and was sounding off in no uncertain manner about the iniquity of such a fine company wasting its time on a mere musical.
And yes, this is a musical rather than an opera, in every way including technical issues of how much of it is sung. Perhaps I can stretch a point, though, and call it an "operetta", since the spirit of Gilbert and Sullivan lurks mischievously beneath the shiny Art Deco surface of what looked daringly modern and cynical in the early 1930s. I wonder whether this less dignified status was what offended my critical colleague or whether he responded adversely to the popular nature of the music, dating as it does from a period (first performance 1931) when the stage show was still a major vehicle for those bright new tunes designed to reach a massive audience of all ages? Not that the divine collaboration of George and Ira Gershwin produced sub-standard jingles, but they were writing for success and that meant taking into account both the theatre audience who would see the show and the larger world where the songs would be played. And this means that there are sharp little numbers and catchy tunes and the occasional ballad that could sound subversive in context but would stand alone when sung separately.
There is also a very silly plot which directly satirises the populist lassitude of the contemporary Hoover administration, though its general message remains universal (hence the elective timing of this production – Opera North last performed the work in 1998.) The story certainly isn't, however, any dafter than G&S and could probably stand comparison with many more formal operas of a comic ilk. Wintergreen is a presidential candidate whose low profile, according to his entirely cynical advisers, may be elevated by a popular platform – any popular platform. This weighty matter is being discussed, in time- honoured fashion, in a hotel room. Asked for an opinion, the chambermaid tells them that love is (after money, of course) the main concern of the American populace, and everything after this is the logical unfolding of a basic premise – give 'em what they want.
A nation-wide beauty contest brings in girls from every state, all agog at the thought of a unique first prize – the winner marries Wintergreen, with a strong chance of becoming the next First Lady. As the presidential candidate, William Dazeley has to put in a performance somewhere between rank opportunism and romantic optimism, and it seems a little unfair that he doesn't get as many of the funny lines as some of the minor characters. But it's a sound showing of leading-man-as-political-animal and he does convey the sort of reassuring presence that might win a vote or flutter the heart of an aspiring bathing beauty. Of course, he doesn't actually marry any of them, opting instead for a nice, efficient girl called Mary (Bibi Heal) who can bake corn muffins and doesn't do the dangerously glamorous thing – in other words, the perfect President's wife.
The played-entirely-for-comedy roles are the femme fatale professional beauty Diana Devereaux (Heather Shipp) and Throttlebottom, the bumbling Vice-President who nobody ever recognises (Steven Beard). These well-judged performances carry much of the broader comic tone of the piece, as Diana vamps it up shamelessly and Throttlebottom, resplendent in dull brown knitwear, fusses with exquisite ineffectuality. Yes, both are stereotypes, but in context that's how this humour works. At times it's less like a musical than a review with interpolated songs, and it wouldn't feel odd were the Marx Brothers to wander through and start one of their routines.
As the initial love story has pretty much been resolved by the interval, in the second half Wintergreen's failing popularity is luckily revived by the news of Mary's pregnancy, which inspires an hilariously stately scene of diplomatic grandeur where assorted ambassadors express their interest in this family situation. Remember (again, think Marx Brothers) that it was an expected trope of the period to fill the stage with elegant evening dresses and a sense of occasion. There's a genuinely funny piece of Gilbertian plotting whereby the French Ambassador supports the waning claims of Diana, swiftly followed by a fine resolution (go on – you can guess it) that excuses the now-married president from any obligation to the beauty queen, and it all ends on a note that satisfies the need for romantic/comic closure without undermining the sharpness and cynicism on which the whole thing is built – and that's a difficult trick to pull off.
Reviewer: Gail-Nina Anderson