Rigoletto
Giuseppe Verdi
Opera North
Theatre Royal, Newcastle, and touring
(2006)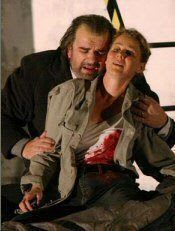 We were promised Alan Opie as Rigoletto and when we were told, before the curtain went up, that he was ill and that his place would be taken by understudy Olafur Sigurdarson, there was a palpable sense of disappointment. By the end of the first scene the disappointment was forgotten and, by the final curtain, there was nothing but total enthusiasm for a superb and powerful performance by the Icelandic baritone. Singing and acting came together to produce something which, if not the definitive Rigoletto, certainly comes pretty close to it. There were moments when the hairs on the back of your neck stood up and the poignancy of Gilda's death at the end was almost unbearable.
But this is an excellent company. Danish soprano Henriette Bonde-Hansen was unusually lyrical in the early scenes as Gilda (she would make a fine Mimi!) and has a great deal of emotional depth in her voice. They were complimented by the effortless tenor of Rafael Rojas as the Duke (a totally convincing sleazeball!) and a very scary Sparafucile in Brindley Sherratt, while Rebecca de Pont Davies made a very convincing - and very sexy - Maddalena.
Charles Edwards, who not only directed but was responsible for set design and lighting, chose to set this production in a sort of slightly indeterminate late-twentieth century setting, with the ducal palace becoming a kind of office setting - one person I talked to saw it as the offices of a company producing porn and it (and its inhabitants) certainly had the requisite sense of sleaze. Indeed, there were more than a few overtones of Cosa Nostra - and Rigoletto's home being a caravan surrounded by a wire fence which at first struck me as being incongruous, if not odd, but which, as the opera progressed, seemed more and more appropriate.
Having seen a very traditional rendering of the opera by the Chisinau National Opera earlier this year (albeit with naked girls: here Monterone's daughter is stripped jsut to her underwear), I was at first unsure about this transformation to a modern setting, a move which I find doesn't work for opera more often than not, but by halfway through the first scene I was convinced. The piece does actually gain significantly from this updating, for it hammers home the sheer unpleasantess of the vast majority of the characters - indeed, only Gilda and Monterone are not tainted - and it restores, to the extent that is possible in modern times, the sense of shock which must have greeted the original production in 1851. Whilst it no longer has the power to shock morally or politically, Rigoletto's final cry of "Ah! la maledizione!" hits home with tremendous force and we are left with a sense of horror and outrage that it is the good, the innocent who die.
The applause was loud and long at the end, and deservedly so for a production which was powerful, deeply moving and musically of the highest standard.
The tour ends in Newcastle.
Reviewer: Peter Lathan