Roméo et Juliette
Charles Gounod, text by Jules Barbier and Michel Carré, after William Shakespeare
Opera North
Theatre Royal, Newcastle, and touring
(2008)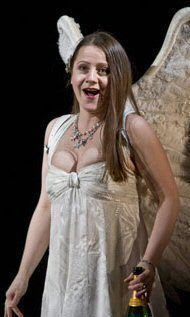 "A feast for the ears, the eyes and the soul" is how my companion described Roméo et Juliette, and so it was. Gounod's music combined with a very clever dark set by John Engels, beautifully lit by Bruno Poet, along with generally sombre costumes from Adam Wiltshire, isolate and emphasise the brightness and joy of the love between the achetypal protagonists.
The opera opens with the chorus, dresed in funeral clothes, singing the introduction - the opera's equivalent of "Two Households, both alike in dignity" - while we see Roméo and Juliette on their wedding night suspended above them on a platform which is flown in and out throughout the piece, transforming from a platform at Capulet's party to Juliette's balcony to a brilliantly green herb garden to a bed to the lovers' final tomb.
A shedding of veils and we're into the Capulet's party and he brings on his daughter Juliette, all in white with a set of angel's wings - and herein lies one of my very few, very minor quarrels with the production. Why the wings? A bit heavy on the symbolism, surely? And if it was meant to be a fancy dress ball, why were Juliette and Mercutio (looking like someone from Taboo) the only ones to be so dressed?
That aside, the darkness of most of the costumes and the serried and silent ranks of the chorus appearing in shadow at key points adds enormously to the atmosphere and provided a wonderful counterpoint to soprano Bernarda Bobro's first aria, Je veux vivre, which drew spontaneous applause from the very appreciative audience.
Roméo (Leonardo Capalbo), too, is in white and their first duet, the madrigal Ange adorable!, is another absolute joy. In fact, the two lovers are totally believable and completely sweep the audience along. Bobro in particular (in her Opera North debut) is very convincing as the teenage Juliette.
As one would expect, given the time it was written (1867), this is a more melodramatic version of the story than Shakespeare's, even to the interpolation of a scene between the lovers in the tomb as Juliette wakes while Roméo is dying, but that's opera!
This is certainly a powerfully moving and dramatic production - all credit to young director John Fulljames for his imaginative approach and conductor Martin André who guides the Opera North Orchestra sensitively through the score - and has very much whetted my appetite for tonight's Macbeth and tomorrow's A Midsumer Night's Dream.
Touring to Salford (10th - 14th June) and Woking (17th - 21st June)
Reviewer: Peter Lathan