The Turn of the Screw
Benjamin Britten, libretto by Myfanwy Piper, adapted from the story by Henry James
Opera North
Theatre Royal, Newcastle, and touring
(2010)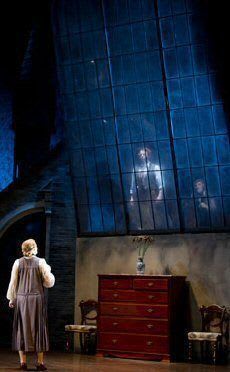 For me, Henry James' The Turn of the Screw is the greatest ghost story ever written. For me, too, the 1961 film version, The Innocents, had at least one moment of shock which made the much vaunted moment in Psycho feel like mild surprise. And I have been a lover of Britten's music for almost fifty years. As a result, the opportunity to see this new production by Opera North, a company for which I have the highest regard and which produced, in 2006, a fine version of Britten's Peter Grimes and, two years later, a really excellent A Midummer Night's Dream, was a much anticipated delight.
And what a fine cast! Four company regulars - Elizabeth Atherton as the Governess, Yvonne Howard (Mrs Grose), Guselle Allen (Miss Jessell) and Fflur Wyn (Flora) - with the amazing 13-year old James Micklethwaite as Miles and Benjamin Hulett, making his Opera North debut as the Prologue and Peter Quint.
When the curtain went up on the Governess bouncing along, back to the audience and surrounded by darkness, in the cart taking her to Bly, and then when, on her arrival, the front gauze flew up and the lights brightened to reveal an impressive, appropriately rather gloomy set, with huge windows set at an angle and letting us understand that the "cart" had, in fact, been a centrally placed four-poster bed, I was convinced that this was to be another brilliant night in the company of yet another talented team from Opera North.
I was disappointed. Not with the faultless singing nor with the cast's perfomances as actors, but because I missed so much. Peter Quint's first appearance at the window, a pivotal moment, was almost lost to me. And when he appeared in the bedroom, my companion, sitting on my left, saw half of him, I caught the odd glimpse of a shoulder, an arm and a leg (and, once, a bit of his head) whilst those who sat on my right - nine seats - saw nothing.
Had I been sitting centrally, it would all have worked for me, but those who sat outside of the central block of dress circle seats had - for this production but not for any other that I can remember in all my years of going to the Royal - what can most kindly be described as a "restricted view". I suspect that patrons at Opera North's home theatre would have been in exactly the same position.
This is basic stagecraft - keeping dramatic and pivotal moments within the sightlines of the entire audience - and one wonders if director Alessandro Talevi ever moved from the centre of the auditorium to check.
So frustrating! One could imagine the effects but could not share them, and thus so much of the tension and fear, so many of the thrilling frissons which are absolutely vital to the piece, were completely lost.
And this is such a shame, for everything else about The Turn of the Screw was absolutely right. The orchestra, under Richard Farnes' sensitive control, provided tremendous atmosphere, and, as already mentioned, you could not ask for a better cast, each one on top form doing full justice to Britten's eerily edgy score.
Touring to Nottingham next week.
Reviewer: Peter Lathan