Werther
Jules Massenet. Libretto by Edouard Blau, Paul Milliet and Georges Hartmann, based on Die Leiden des jungen Werther by Johann Wolfgang von Goethe
Opera North
Theatre Royal, Newcastle, and touring
(2009)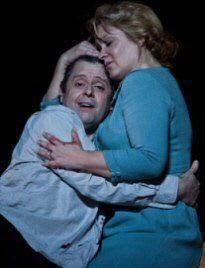 If Così fan tutte (reviewed yesterday) is the epitome of the Age of Reason, then Werther must surely be the quintessential example of European Romanticism. The Sorrows of Werther, first published in 1774 just four years after the death of Thomas Chatterton, the English poet whose emotional intensity matches that of Werther, who may have committed suicide and who became something of an icon to the English Romantics, could be regarded as the precursor of the Decadent movement of a century later, exemplified in Britain by Swinburne and, perhaps more important as far as Massenet is concerned, by Baudelaire in France.
Certainly the plot, which surrounds the despair of Werther and Charlotte with the happy innocence of childhood, and the theme, the dire consequences of sacrificing love for duty, are truly Romantic and the music, with its powerful evocation of emotion, rising, as it does, from crescendo to crescendo, supports this intensity.
But it also has moments of great tenderness and quietness: Charlotte's repetition of "tristesse" as she reads Werther's letters at the beginning of Act III is deeply moving, as is her struggle to maintain her composure in the duet with Sophie which follows.
Paul Nilon (Werther) and Alice Coote (Charlotte) bring great power to their roles with Nilon's soaring tenor particularly effective in moments of high emotional drama. They are well supported by a strong cast with FflurWyn an affecting Sophie and some light relief from Richard Burkhard (Johann) and Joshua Ellicott (Schmidt). The ever-reliable Peter Savidge brings a quiet strength to the part of Albert, Charlotte's fiancé and then husband, while Donald Maxwell gives The Magistrate (Charlotte's father) an avuncular charm.
Director Tom Cairns has chosen to give us a very traditional reading of the piece, right through to the acting style, which is, I think, the right decision as the almost overblown emotional qualities of the piece need an appropriate acting style. Hildegard Bechtler's set (sensitively lit by Charles Balfour) is a joy, changing for each act from the outdoor scenes (outside the house and outside the church) in Acts I and II to two different interiors for the last two acts. Act II gives us Albert and Charlotte's house with a brightly lit harpsichord part concealed (at least from where I was sitting) by a black pillar (very symbolic!) and in Act IV we have Werther's room, with more than a little (and totally appropriate) suggestion of the garrett.
It has to be said that Werther is something of a period piece, firmly of its time. Adiet of this high Romanticism would be - for this reviewer at any rate - rather too rich, but for a single performance in a season of three very different operas, it is well worth a visit.
Reviewer: Peter Lathan