Kick for Touch / Clara
Peter Gill / Arthur Miller
Orange Tree Theatre, Richmond
(2006)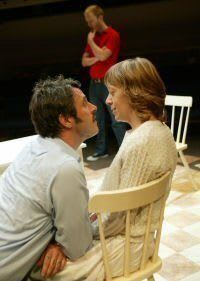 Peter Gill's Kick for Touch took a critical hammering when he first staged it at the Cottesloe in 1983, a year before his retreat into the National Theatre's studio.
Like Sartre's better-known three-hander, it seemed intended to prove that hell is other people: in this case a Welsh domestic ménage à trois.
Two working-class men who may be buddies, brothers, or former lovers (at any given moment we cannot be sure) share the affections of Eileen, a woman crushed by circumstance, married to Joe but drawn more closely to Jim with whom she may (or may not) have borne a child.
Past and present events interweave and sometimes overlap. And between the routine chit-chat about signing-on, weekend rugby or a sleeping child upstairs, there are memories or portents of some dark, terrible tragedy — blood on the sheets, a dead woman or a dead baby, and passionate denials all round.
The men intone familiar dialogue from classic '70s Hollywood movies, and even put their heads together in an a capella rendering of the Everly Brothers' 'Dream, Dream, Dream', leading to an ambiguously chilling three-way embrace; while Eileen, as wife, sweetheart and mother pleads, "Don't go out!".
Finally the woman, a still but quietly impassioned figure played by Miranda Cook, brings on two young boys in pyjamas, a puzzling moment unexplained by what has gone before, while the men tussle on the floor, locked in an embrace that may be pugilistic or passionate — or probably both.
In a phrase made famous at the time, the otherwise kindly Jack Tinker in the Mail suggested that the play's 58 minutes running time would benefit from being cut by an hour, and it seems an odd and elusive Showcase choice for Amy Hodge to end her year at the Orange Tree as a trainee assistant director.
But in fairness to her work with this difficult, hitherto un-revived play, she finds more dramatic momentum than Gill's static original, plus compellingly masculine performances from Mark Frost, making an impressive London theatre debut as the lumbering Joe, and from Rhydian Jones as Jim, his more mercurial rival.
Following the interval, Arthur Miller's Clara begins with an intriguing 'elephant in the living-room' moment as Kieron Jecchinis, playing a New York cop on a murder case, sits at a desk riffling through documents in search of clues. But while barking orders at his sidekick (Chris Newland) he remains oblivious to the inert, bulky frame of Kenneth Jay's Kroll stretched out on the apartment floor, whom we naturally take to be the murder victim.
In fact Kroll, who fell into this comatose heap after discovering his daughter Clara's body, is suffering from a self-protecting memory loss of things he would rather forget, while the cop is impatient for information that will lead him to the killer.
As a rehabilitation worker Clara had started a relationship with a Puerto Rican convicted of murder, and although Kroll had serious doubts, for him almost any man was preferable to his growing suspicions that Clara was a closet lesbian. Now with his pangs of conscience and liberal tolerance he finds it impossible to remember the man's name.
When the play was first seen in New York in 1987, and a year later at Hampstead, the police interrogation was accompanied by projected visual prompts as well as flashback scenes between Kroll and his daughter (Susie Emmett).
With convincing success the director Imogen Bond has dispensed with the graphic material, first replacing it with the figure of Clara bathed in a phosphorescent glow, then by a series of white-light flashes as each piece of the puzzle is restored to Kroll's memory by his interaction with the detective.
The key flashback is a scene depicting Clara as a teenager, totally engrossed by her father's wartime story of rescuing a group of his black squaddies from a Southern lynch mob.
If Miller's use of these tricks as memory triggers is not always entirely convincing, the dramatic interplay between Jecchinis as the eager and impetuous police lieutenant and Jay as the disturbed father provides a thrilling demonstration of the power of pace — presto counterpointed by largo — a pair of performances that deserve to be seen by all lovers of skilful acting.
And given the current revival of interest in Miller, one hopes that someone will discover and transfer this fine production, pairing it with, say, Miller's Some Kind of Love Affair with which it shares a striking thematic resonance.
The final Orange Tree performances are on June 24th, 2006
Reviewer: John Thaxter