Major Barbara
George Bernard Shaw
Orange Tree Theatre, Richmond
(2006)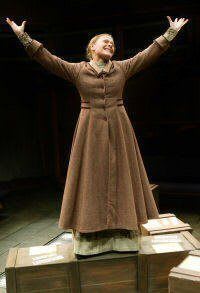 Bernard Shaw's "Discussion in Three Acts" about the morality of the international arms trade and the 'damnable sin' of poverty, is a trial of strength between Andrew Undershaft, a millionaire gunpowder merchant and media mogul, and his Salvationist daughter Barbara and her professorial fiancé Adolphus Cusins.
'Dolly' may bang a big drum in the West Ham citadel band to show his devotion to Barbara and her cause, but he's a pussycat in the hands of his future father-in-law who happily picks up a trombone to join a Sally Army 'Blood and Fire!' rally in support of peace and goodwill, while suborning this practical idealist with an offer to inherit the Undershaft empire despite its tainted millions.
Written in 1905, the play was last revived in London eight years ago when it enjoyed some topicality when viewed against New Labour's Sandline arms scandal and Undershaft's own Welfare to Work initiative — a better answer to the problem of poverty and hunger than the Salvation Army's bread and treacle handouts.
Sam Walters has mustered a 14-strong cast for this Orange Tree restaging which opens his ambitious Bernard Shaw celebration season. And in a programme note he suggests that with religion now dominating the headlines Shaw's "debate between faith and reality" makes it "a good choice for the times".
I would argue that the play is not really about religion at all — certainly not about fundamentalism. Witness the way that Barbara and Dolly coolly abandon their spiritual mission at the very moment when the Salvation Army general accepts a £5,000 cheque from Undershaft in return for its useful work in pacifying the poor and the potentially revolutionary.
As the East End bruiser Bill Walker, played with disturbing menace by Mark Frost, so neatly puts it, "What price salvation now?"
In fact those three Bs — Bush, Blair and Bin Laden — have so changed our world view that Shaw's prolix arguments seem almost beside the point, except for a passing remark about honours for political donations!
Octavia Walters' Barbara makes a sweetly sincere case for spiritual joy and her refusal to take the devil's shilling, but she has less conviction as the evangelical bully at her West Ham shelter.
In place of a proactive New Woman — Shaw's version of an Edwardian Saint Joan — she portrays a warmly reactive, emotionally needy creature of unsanctimonious goodness and companionability.
It will do nicely for the three hours passage of the play, but does not support Barbara's militant rallying calls for salvation for the down and out, and gives her father less to fight against.
Instead it is left to David Antrobus as an owlish Dolly to sharpen his sword on his philosophical exchanges and business bargaining ploys with Robert Austin's sturdy, all-powerful Undershaft.
Shaw took the view that Undershaft is the real hero of his play, here given a performance by Austin of unfailing urbanity and good manners; not just a gentlemanly 'prince of darkness' with scarcely a whiff of sulphur, but a Machiavellian master of shrewdly effective frankness.
The evening opens with delicious scene-setting comedy featuring Jacqueline King as the doting but formidable materfamilias, taking her idle rich son Stephen to one side for plain talk about the facts of the family inheritance.
The scene is given a nicely ironic designer's touch by William Roberts, the Belgravia drawing-room furnished with upturned crates of Undershaft gunpowder. This is a crafty reminder that Lady Britomart Undershaft and her children have lived a life of luxury and independence entirely based on the profits of international armaments and the blood and destruction they cause.
Nicholas Gadd who plays Stephen also offers another effective moment as the family pays its first visit to the Undershaft factory at Perivale, a utopian scene of industrial might with a contented workforce — a discovery that instantly converts him from lofty indifference to an awe-struck, would-be politician praising the magnificent triumphs of modern industry.
Among a large supporting cast there are also fine performances by Matt Houlihan as a foolish suitor, Stuart Fox as Snobby Price, and a wide-eyed Sarah Manton as an Army lass who takes what looks like a very realistic beating from Frost's ruffian.
I should also add that this impressive line-up of characters is brilliantly served by the Orange Tree's wardrobe resources.
Philip Fisher reviewed this production later in the run
Reviewer: John Thaxter